On Jan. 11 the North Carolina Coastal Federation's northeast office kicked off the year with a volunteer debris cleanup in the Wanchese area. The staff members were joined by 34 volunteers from as far as Chapel Hill, Oriental and Corolla along with the familiar faces of our northeast volunteers. A few of the participants had also volunteered at the other regional offices and said that they have enjoyed traveling around the different coastal regions and seeing all of the sites we care for.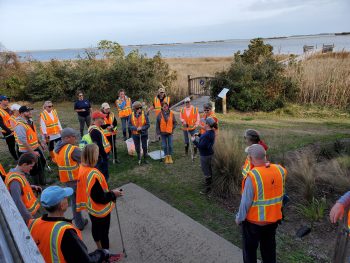 Will Phillips, from Chapel Hill, was one of the volunteers who enjoys traveling to see all of the sites we clean up along the coast. When asked about his motivation, Will shared, "Being piedmont landlubbers, we are especially appreciative of what remains of our coastal resources. It seems like we just take, take, take from this productive ecosystem. It feels good to give back. We all have this innate desire to escape our day-to-day routine. To find hope and promise in complete strangers. Traveling from Chapel Hill to Manteo to volunteer with the federation satisfied all of these desires. Great people and a great cause! Recharged!"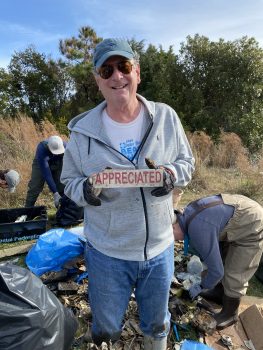 The volunteers, along with the federation's local staff, divided up into groups to tackle different areas of Roanoke Island, based on a scale of how adventurous they were feeling. Michael and Erin led a group through an area of marsh in the Wanchese Harbor. This area has become a collecting point, trapping items over time from storm surge and other weather events. This group braved the muddy waterfront and trudged through the marsh to explore and retrieve items that had settled out there. In addition to the most common consumer debris items, they also found wood debris, a large cooler, fish totes, bushel baskets and several tires.
Another group braved the thicket, thorns and brambles at a popular carpooling parking lot in Skyco. Known as the "park and ride" this busy lot sees lots of traffic throughout the day, but doesn't have a waste management system. The volunteers cleaned this area so thoroughly, passer-byes have since taken notice and have sent the federation compliments of appreciation. Unique items this group found included discarded 5-gallon buckets with unknown contents, a gas can and old event signage that was posted at the intersection. Kevin King, who travelled from Corolla to participate in the event, shared afterward, "What [the federation] does is real life super hero work and inspirational."
Yet another group braved the traffic on the highway between Roanoke Island and the Nags Head Causeway. This particular area has been an area of need for the community to step in and help maintain, along with assistance from the NC Department of Transportation. This volunteer crew logged the greatest number of steps, covering the highway and tracking down items that had blown into the adjacent needle rush marsh. The treasures were wildly varied at this site and included large pieces of cardboard, holiday decorations, political signs, beach toys and sports equipment.
The total amount collected from the entire cleanup event yielded about 55 bags of trash and 10 fish totes full of recycling. Along with the other debris an estimated total of about 1500 pounds of marine debris was collected. We admire everyone's dedication that made this event such a success.
To learn more about the federation's effort to create a coast that is free of marine debris, visit https://www.nccoast.org/protect-the-coast/marine-debris/.