The North Carolina Coastal Federation was pleased to act as Avalon Pier's zone captain for the Outer Banks' Surfrider Foundation's annual Beach Sweep and TrashFest last month, where 120 volunteers gathered at multiple beach accesses to remove trash from the beach.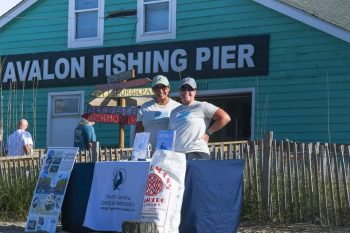 Other organizations including the North Carolina Aquarium at Roanoke Island, Jennette's Pier, Kitty Hawk Kayaks and the Girl Scouts of America served as zone captains at additional accesses to ensure full coverage of the beach. Supplies were provided by Surfrider's Outer Banks chapter, which included the use of grain bags from the Outer Banks Brewing Station – an example of creative repurposing and recycling.
The collected trash was counted and sorted using the Ocean Conservancy's data card for beach cleanups into categories like plastic dining utensils, plastic bags, fishing gear, aluminum cans and more. This data collection is important for better understanding marine debris. Across six beach accesses, approximately 750 pounds of debris was collected. As typically seen on beach cleanups, cigarette butts were the most commonly found item, totaling at 1,700 collected. Small plastic pieces and food wrappers were the second and third most found items totaling at 840 and 540 found, respectively.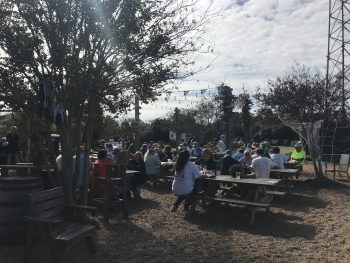 Participants gathered at the Outer Banks Brewing Station following the cleanup where pizza, tacos and drinks were provided. Live music and freebie handouts like reusable metal straws, reusable tote bags, and t-shirts capped the event off.
Due to the number of negative impacts marine debris has on the environment, the federation has prioritized the reduction and prevention of marine debris as one of its main goals. The upcoming North Carolina Marine Debris Action Plan is a collaborative effort the federation has been involved in which will focus on strategic measures for reducing and preventing marine debris. For more information on the federation's work on marine debris and our programs, click here.