WANCHESE — On Saturday, Oct. 12 Coastal Provision's Oyster Bar and Wine Bar Café in Southern Shores hosted Oystoberfest. The fourth annual event featured oysters and provided guests an opportunity to learn all about them from those who grow, harvest and serve them. A portion of the proceeds was donated to support the North Carolina Coastal Federation's oyster restoration program. Staff and volunteers from the federation's northeast office in Wanchese were on hand during the event to provide education and help collect recycled oyster shells.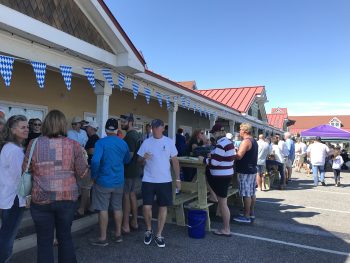 Over 200 attendees enjoyed unlimited oysters on the half shell and a variety of cooked oyster dishes from local restaurants. Several North Carolina and Virginia oyster growers were at the event with freshly harvested oysters, including Ocracoke Mariculture, Big Rock Oysters, Middle Sound Mariculture, Lynnhaven River Oyster Co., Little Wicomico Oyster Co., N. Sea Oyster Co. and Savage Inlet Oysters. Several local restaurants participated and served a variety of cooked oyster dishes, hoping to win the crowd favorite, as attendees had the chance to vote for the most delicious dish. Oyster shooters, pickled oysters, oyster stew, Oysters Rockefeller and even oyster pizza were up for the vote with the top prize being awarded to Beachside Bistro at the Sea Ranch Resort. Other restaurants serving up unique oyster samples included Blue Water Grill and Southern Shores Pizza, earning second and third place awards respectively. Chefs from Sal's Pizza, Coastal Cantina and Coastal Provisions also served cooked oyster samples. In addition to all the oysters attendees could eat, adult guests enjoyed samples of craft beer and wine from several North Carolina vendors.
The federation hosted a table that included educational materials highlighting the natural history and life cycle of oysters, along with some live baby oysters for attendees to see up close. Everyone was intrigued to see these live juvenile oysters, along with a few mud crabs already proving their important role for creating habitat. Volunteers and staff members worked diligently to ensure that all oyster shells were recycled by collecting them in buckets. Guests were eager to learn how these shells will be used to build a new oyster reef. Coastal Provisions generously donated proceeds from this event to the federation to support the continued work of restoring water quality and oyster habitat in North Carolina.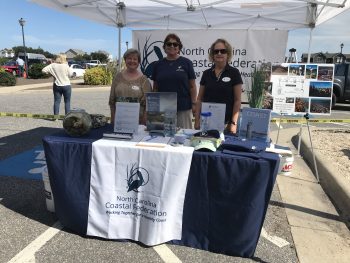 Coastal Provisions is a dedicated partner of the federation. They actively participate in both the federation's Restaurant to Reef and Ocean Friendly Establishments Programs. Through the Restaurant to Reef program, the restaurant commits to recycling oyster shells, which are then collected weekly by volunteers to be used in new restoration projects. As a certified Ocean Friendly Establishment, Coastal Provisions makes voluntarily environmentally friendly business decisions, primarily focused on reducing their use of single-use plastics. The federation is currently expanding both of these programs on the Outer Banks and looking for additional restaurants and volunteers to participate. For more information, contact Leslie Vegas at lesliev@nccoast.org or 252-473-1607.
Oysters are vital to North Carolina's coastal ecology and economy. They filter water, provide food for humans and create reefs that build homes for more fish. These environmental benefits, in turn, support jobs and provide economic opportunities for coastal communities. Oystoberfest demonstrated a culmination of these efforts that promote continued oyster restoration and a growing mariculture industry. To learn more about the importance of oysters and the federation's efforts to restore them, visit nccoast.org/oysters