On April 27, the North Carolina Coastal Federation participated in Work on Wilmington by hosting a volunteer event at Bradley Creek Elementary School. About 25 volunteers helped to remove nuisance species such as cattails, willows and red maples along with dead debris and trash from the stormwater wetland. The group worked to spruce up stormwater wetlands and rain gardens on the school's campus that the Coastal Federation designed and installed several years earlier to reduce polluted stormwater.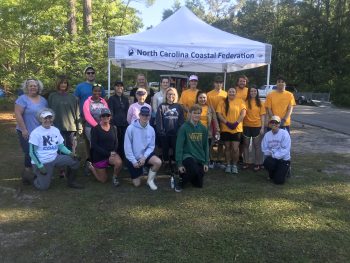 "Bradley Creek Elementary School is a 19-acre site located next to a tributary that drains to Hewlett's Creek, which is a very important ecosystem because it serves as a nursery for fish and has high-quality shellfish waters," said Bonnie Mitchell, coastal outreach specialist.
"Overall the stormwater techniques are capable of collecting 120,000 gallons of water for every 1.5 inches of rain. These volunteers made it possible for this area to continue to absorb and filter stormwater runoff, benefiting Hewlett's Creek and all the wildlife that depends on its clean waters. Having volunteers maintain these properties that we worked so hard to implement stormwater retrofits on  is critical for us."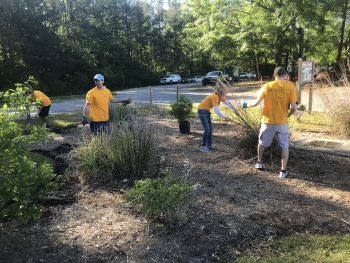 Work on Wilmington volunteers weeded, pruned, mulched and thinned out vegetation along with all the rain garden areas. They then planted Yaupon, pruned bushes and fixed up the landscaping near the school entrance. The group also helped to load up and remove all the debris that had been collected during the federation's previous volunteer event there.
Work On Wilmington is an annual event sponsored by the Wilmington Chamber Foundation that brings together local businesses and volunteers to work on local service projects.
"I also was pleased with all that we accomplished. Such a nice group of hard-working volunteers," said Anne Terry, Southeast Coastal Ambassador.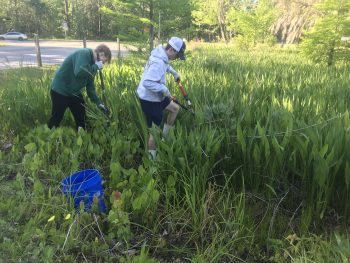 The federation would like to thank all of our amazing volunteers who participated in this event including those from Carroll Management Group and Christina Rivenbark & Associates. We also want to say a huge thank you to Beach Bagels for sponsoring our event with their delicious bagels, cream cheese and coffee. We also want to thank the Wilmington Chamber of Commerce-Leadership Class, Cape Fear Garden Club, New Hanover County Schools Grounds Team and Bradley Creek Elementary School.
"We are so grateful for Work on Wilmington, the community and having this opportunity to share our volunteer work with local groups and organizations," said Mitchell.
Support for community engagement and maintaining these stormwater reduction projects comes from the Landfall Foundation and the RBC Blue Water Project.