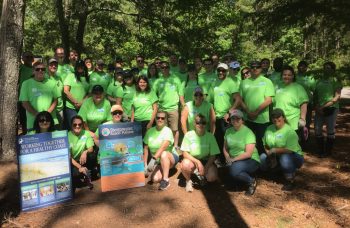 On Monday, May 6, 44 dedicated volunteers from Cox Automotive helped the North Carolina Coastal Federation spruce up the grounds of Bradley Creek Elementary School.
"We had our sales organization here to help and support the federation," said David Herwood from Cox Automotive. "We are volunteering as part of our company wide initiative to volunteer with no excuses in April and May."
The volunteers added beautiful native plants to the rain gardens and mulched each garden with care. Rain gardens are constructed shallow depressions that work the way nature does to capture
stormwater runoff so it can soak into the ground.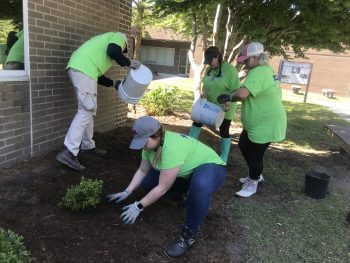 In addition to reducing the amount of runoff being generated from the school's roof and parking lot, the rain gardens serve as a living classroom. Bradley Creek Elementary School is located next to a tributary that drains to Hewlett's Creek. The rain gardens and other stormwater reduction features on site collect 120,000 gallons of water for every 1.5 inch of rain.
Cox Automotive gave a great service by helping keep these rain gardens working to reduce runoff.
Cox Automotive is an Atlanta-based business unit of Cox Enterprises. During this year's 'No Excuses' campaign, 3,434 Cox Automotive team members, family and friends volunteered a total of 16,473 hours and coordinated 230 projects with community partners.
"The energy and enthusiasm from the Cox Automotive team was contagious. We hope this will be a partnership that lasts throughout the years," said Bonnie Mitchell, coastal outreach specialist for the federation.
Support for community engagement and maintaining these stormwater reduction projects comes from the Landfall Foundation, Cape Fear Garden Club and the the RBC Blue Water Project.