The release of the 2019-2024 Proposed National Outer Continental Shelf Oil and Gas Leasing Program has been anticipated since January, and the pages of the monthly calendar have turned over four times since the new year. Nonetheless, the federation and Don't Drill NC coalition partners have remained vigilant and monitored related activity as well as engaged the public via informative presentations during various coastal community meetings.
The U.S. Senate confirmed Mr. David Bernhardt, a former lobbyist for the oil and gas industry, as the Secretary of Interior of April 11.  There is reason to believe that the Mid-Atlantic Planning Area, which includes the federal waters off the coast of North Carolina, will be included in the 2019-2024 Proposed National Outer Continental Shelf Oil and Gas Leasing Program since the Bureau of Ocean Energy Management (BOEM) has scheduled open houses for Kill Devil Hills on May 14 and Morehead City on May 15. Those dates are less than a month away. So, unless BOEM plans to reschedule, it seems very very likely that the proposed program will be released in the coming weeks.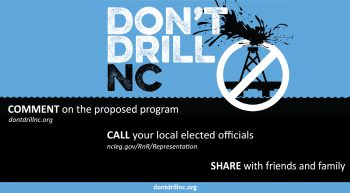 The federation along with partner organizations associated with the Don't Drill NC coalition plan to hold response rallies within 48 hours the public release of the proposed program to demonstrate opposition to offshore oil and gas exploration along the Atlantic coast including seismic surveying.  Sign-up to receive text alerts for rallies being hosted in the following locations.
Receive texts for Nags Head
Receive texts for Morehead City
Receive texts for Wrightsville Beach
Receive texts for Raleigh
Take action now and call your state and federal representatives to express concerns about the detrimental impacts offshore oil and gas exploration and seismic surveying would have if permitted along the Atlantic Outer Continental Shelf (OCS). Learn more at nccoast.org/oil.
Read the April Offshore Oil and Gas Activity Update for more information.