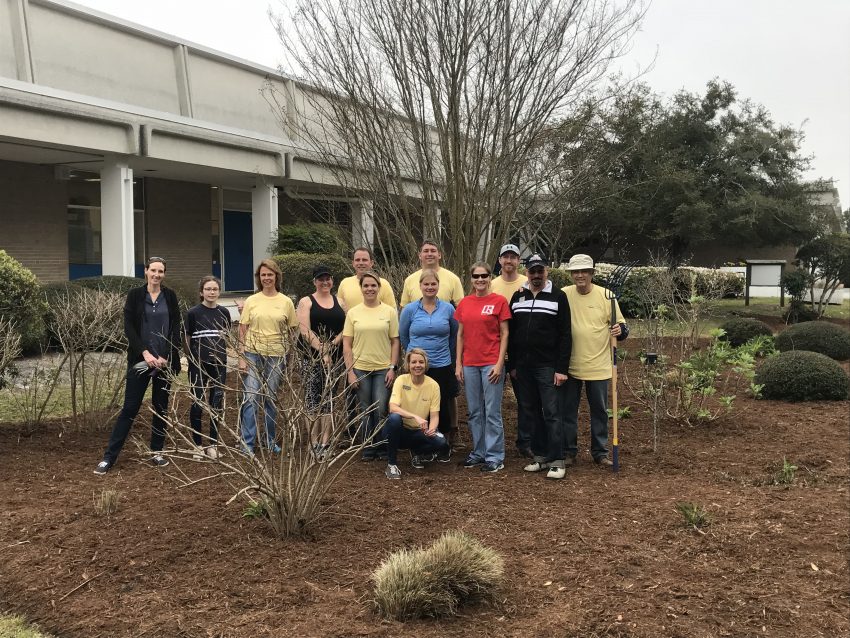 On Tuesday, April 3, 14 volunteers from Cape Fear Realtors volunteered with the North Carolina Coastal Federation in the rain gardens at Alderman Elementary School for Realtor Action Day.
Volunteers performed maintenance on the rain garden, which typically consists of removing invasive plants, pulling weeds, removing debris and spreading mulch.
The 2018 event marked the fourth year of Realtor Action Day. Realtors throughout the Cape Fear region helped with more than 20 community service projects in Wilmington, Carolina Beach and Topsail Beach.
This was the third year that the North Carolina Coastal Federation hosted volunteers for Realtor Action Day. In 2017 and 2016, the federation hosted volunteers at the Carolina Beach State Park living shoreline. Many of this year's volunteers, most also members of the Realtors Commercial Alliance of Southeastern NC, volunteered at Carolina Beach State Park last year.
"We are really grateful to participate in Realtor Action Day for the third year in a row," said Jessica Gray, coastal outreach associate for the federation's Wrightsville Beach office. "It gives us an opportunity to highlight the different projects we are working on in the region to protect and restore water quality."
The rain garden at Alderman Elementary School is part of the Bradley and Hewletts Creek Watershed Restoration Plan. It also serves as a living classroom. Federation educators work with teachers to engage the students in classroom activities focused on the water cycle, plants, soil and stormwater.
To learn more about how to get involved with the federation as a volunteer, visit nccoast.org/volunteer. To take part in rain garden maintenance work, register for the federation's Work on Wilmington event on April 28, which will be at the Bradley Creek Elementary School rain garden. ­