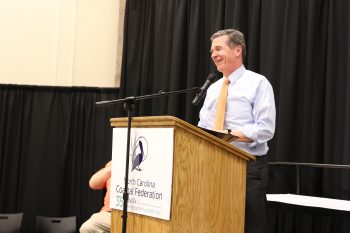 Gov. Roy Cooper spoke at the North Carolina Coastal Federation's 2017 Pelican Awards and 35th Anniversary Soundside Soiree Aug. 5, where he called on the state to recommit to protecting the coast's natural resources — and its economy.
"How can we have a strong economy if we don't have clean water?" Cooper told the sold-out crowd of nearly 500 people attending the event in Morehead City.
Cooper also reiterated his opposition to oil drilling announced in July — "Not off our coast." The governor took a strong stance against offshore oil drilling and seismic blasting at an announcement at Fort Macon State Park in Atlantic Beach.
Cooper highlighted the North Carolina coast's national prominence in his speech, saying that he feels the coast is part of who he is.
"Not only is our coastal area a crown jewel for our state, it is also a national treasure," Cooper said.
Dick Bierly, president of the federation's board of directors, noted that the event was attended by bipartisan group of legislators. Coastal lawmakers Sen. Bill Cook, Rep. Beverly Boswell and Rep. Deb Butler attended the event. Michael Regan, Secretary of the North Carolina Department of Environmental Quality, also attended.
Bierly noted that coastal conservation can overcome political differences.
"One issue we should all support regardless of our political affiliation is to protect the coast," he said.
Check out some tweets highlighting excerpts from the governor's speech:
Welcome @NC_Governor to the 2017 Pelican Awards and 35th Anniversary Soundside Soiree! pic.twitter.com/pSrvpFBnZZ

— N.C. Coastal Fed (@NCCoastalFed) 5 de agosto de 2017
"This coast is a part of who I am. You would not be here unless you felt the same way." @NC_Governor speaking at @NCCoastalFed Awards

— NCLCV (@nclcv) 5 de agosto de 2017
.@NC_Governor said coastal economy and environment must go hand-in-hand #ncpol

— N.C. Coastal Fed (@NCCoastalFed) 5 de agosto de 2017
.@NC_Governor says he admires that the Coastal Federation puts special focus on education.

— N.C. Coastal Fed (@NCCoastalFed) 5 de agosto de 2017
"I'm proud of the work of @NCCoastalFed for three and a half decades." – @NC_Governor. Way to be @NCCoastalFed!

— NCLCV (@nclcv) 5 de agosto de 2017