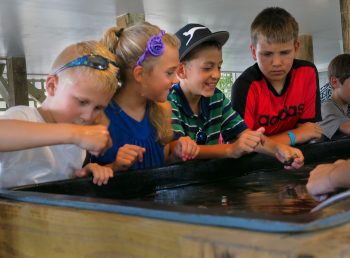 Children from Belarus stopped by the North Carolina Coastal Federation's Touch Tank Tuesday program on July 25 at the Fred and Alice Stanback Coastal Education Center in Wrightsville Beach.
These 13 children came to the United States through the American Belarussian Relief Organization and Port City Community Church.
The children, along with their American host families, handled local marine life and participated in other fun activities that teach participants about estuarine wildlife and the importance of protecting water quality and coastal habitats.
"We were thrilled to share our coastal touch tank experience with these children and their host families," said Tracy Skrabal, coastal scientist and manager at the Wrightsville Beach office. "We may not speak the same language, but we can all share the joy of learning about the many animals that live in our waters."
In video by WWAY3, children said their favorite animals included the small crabs, a shark and "the crab with the shell."
The visit was organized through the American Belarussian Relief Organization (ABRO), a nonprofit organization serving the children of Belarus affected by radiation from Chernobyl.
Since 1991, ABRO has arranged for over 5,000 children from Belarus to make the trip to the United States for rest and medical evaluation, giving their bodies a rest from the physical and emotional stress of living in a contaminated environment. The six-week visits, organized through Port City Community Church, allow the level of radiation in the children's bodies to reach lower levels.
According to ABRO's website, the 1986 nuclear disaster at the Chernobyl Nuclear Power Plant in northern Ukraine released more than 100 times the amount of radiation than the atomic bomb dropped at Hiroshima.
The people living in the surrounding area have since experienced an increase in disease and birth defects, especially in Belarus, which received 70 percent of the radiation fallout. The country's population has dealt with a 200 percent increase in thyroid diseases, cancer, birth defects, vitamin deficiencies and other illnesses.
More information about the American Belarus Relief Organization is available at abro.org. The Port City Community Church has more information about its Belarus mission here: portcitychurch.org/global.
Several news organizations came out to the event. Check out their videos and coverage here:
Check out these photos by Carol Spiller: