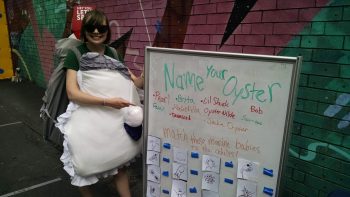 The North Carolina Coastal Federation brought its enthusiasm for oysters inland over Memorial Day weekend, setting up a booth at Chapel Hill's Jaws Fest.
Kelly Bodie, membership director for the federation, ran the booth while wearing the federation's oyster costume. She talked to people about oysters and how they benefit North Carolina's economy and environment and promoted the Adopt an Oyster program.
"Jaws Fest was a complete blast and we were honored to participate. Twenty-five oysters were adopted to support our 50 Million Oyster Initiative and kids of all ages loved testing their knowledge of coastal creatures," she said. "Thanks to all of the participating businesses for making this one-of-a-kind event so much fun."
Syd's Hair Shop donated 100 percent of its hair services on May 28 to the federation, donating $1,200 in total. Proceeds from the nearby dunk both also benefited the federation, bringing in $800 in total.
Hundreds of people attended Jaws Fest, which is a Chapel Hill block party that features local music, food and merchandise. Syd's Hair Shop has donated to the federation in the past, and the local barcade The Baxter hosted the dunk tank.
For more information on oysters, visit nccoast.org/oysters or ncoysters.org.