Estuaries do it all — they serve as nurseries for juvenile fish, help support the economy, filter polluted stormwater runoff, preserve centuries-old cultures and traditions and serve as unique educational resources.

Sept. 17-24. is National Estuaries Week, which is hosted by Restore America's Estuaries (RAE) and its member organizations. Since 1988, this week has celebrated the important role of estuaries in keeping coastal ecosystems healthy and beautiful. 1988 marked the first National Estuaries Day, and the recognition turned into a week-long celebration four years ago.
Gov. Pat McCrory recently signed a proclamation commending the observance of Estuaries Week, Sept. 17-24, in North Carolina by all citizens. This exciting proclamation cites tourism, commercial fishing, recreation, education and marine habitat protection as reasons for the week-long recognition.
In recognition of National Estuaries Week and North Carolina Estuaries Week, the North Carolina Coastal Federation is hosting events along the coast that aim to celebrate and protect the estuaries of North Carolina, which has the largest estuarine system of any Atlantic coast state.
"Healthy estuaries ensure that the coast remains an ideal place to live, work and play. Because of their natural benefits, we're excited to celebrate estuaries for a whole week on both a state and national level," said Todd Miller, executive director for the federation.
Estuaries are more than just the areas where freshwater and saltwater mix — they support many important coastal functions. According to the National Oceanic and Atmospheric Administration (NOAA), "many animals rely on estuaries for food, places to breed, and migration stopovers."
Despite these important roles, more than half the nation's original coastal wetlands have been lost over the past 200 years, according to RAE. It is important to recognize the value that protecting and restoring our estuaries delivers to both our local economy and nation.
According to RAE, our coasts and estuaries are worth nearly $1 trillion annually to the American economy, and coastal waters add more than $800 billion in trade and commerce and tens of billions in recreational dollars. RAE also reports that 43 percent of us live in coastal areas, accounting for 40 percent of all employment nationally—69 million jobs in all—and 43 percent of our overall economic output.
Estuaries Week is a great time to appreciate all of the things our estuaries do to protect the coast we love.
Show that appreciation by participating in the federation's events that support and improve the quality of North Carolina's estuaries. Check out the events below!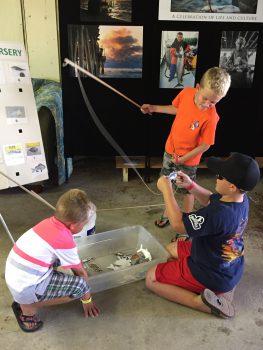 Outer Banks

Kick of Estuaries Week with the federation on Sept. 17 at Day at the Docks in Hatteras Village. Day at the Docks serves as a confirmation of the strength of community, heritage and living traditions of the working waterman. The federation will be hosting explorations of the Durant's Point living shoreline at various times throughout the event.

Participants will meet at the docks to embark on a short boat ride across the canal and land along a fragile piece of the barrier island, where the federation and other partners have worked hard to restore native wetland vegetation. This living shoreline functions to control erosion while creating estuarine habitat. This is a free event.
Crystal Coast
Looking to celebrate from the central region? Whether you're looking for a relaxing day of sightseeing or getting your hands dirty, the federation's got you covered.
Join birding expert Joanne Powell on Sept. 18 for a birding cruise on a covered ferryboat through the estuaries in and around the White Oak River and Bogue Sound. The group will slowly cruise and look for resident and migratory birds. Registration is required. The program fee is $20 for federation members and $25 for nonmembers.
The federation is also seeking volunteers to help build a living shoreline at Trinity Center in Pine Knoll Shores, one bag of recycled oysters at a time. This ongoing project is an excellent celebration for estuaries week, as this shoreline will not only protect the shoreline from erosion, but create habitat and keep waterways healthy. Registration is required, but the event is free.
Hit the trails with us at the Ride for North River & Barn Party on Sept. 24.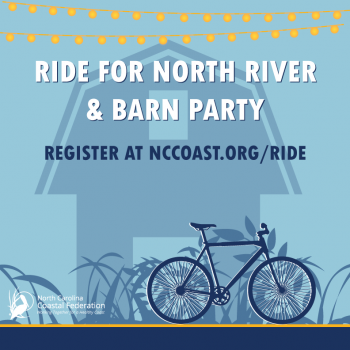 The federation is hosting this event at its 6,000-acre North River Wetlands Preserve in Otway, North Carolina. This preserve has been restored from farmland into functioning wetlands that clean stormwater runoff from nearby farms.
"We are focusing on a day of fun for the whole family. Whether you like to bike, run, walk, or just hang out, this will be the perfect day for it," said Catherine Snead, director of business engagement for the federation.
The Ride for North River & Barn Party features a 7-mile bike race, a 5K, 1- mile fun run and a barn party that will feature a clambake, live music, hayrides, yard games, bird watching tours and much more. Visit nccoast.org/ride for full event and registration details.
Cape Fear Coast
Estuaries serve many important ecological functions, including their role as fish nurseries. But these juvenile fish can't survive unless the estuaries are clean. Help the federation keep estuaries clean — join the federation for a shoreline cleanup at Carolina Beach State Park on Sept. 24. Volunteers can assist with shoreline cleanup and monitor the oyster reef and salt marsh vegetation restoration project. Staff will be on site with an informational booth and will also lead interactive activities.
Be sure to update your social media posts during the week by using hashtags #EstuariesWeek, #EstuaryLove and #NCCoast. For more information about National Estuaries Week, please visit the RAE website. Please call the federation for questions about the 2016 North Carolina Estuaries Week proclamation.
Details, pricing and registration information for the federation's Estuaries Week events can be found on nccoast.org/events. Please call 252-393-8185 with any questions.