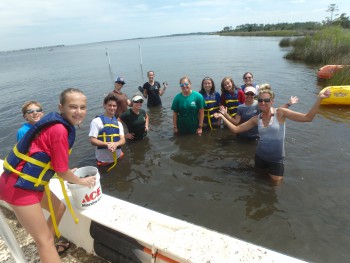 Northeast staff at the North Carolina Coastal Federation teamed up with Jennette's Pier in Nags Head for Service in Science Camp, which gave participants a chance to see a variety of habitat and restoration projects in the Outer Banks.
This week-long summer camp, which was from June 20 to June 24, offered a unique chance for teenage campers to participate in hands-on environmental work experiences and earn community service hours — and they had fun while they were at it!
This continued partnership between the federation and Jennette's Pier has allowed students of all ages to enjoy a variety of outdoor experiences over the summer.
"The teens really loved learning about the different types of marine life that are so important to our water ecosystems. They learned a lot and had some adventures that they will not forget," said Rachel Potts, an educator at Jennette's Pier.
The students conducted a litter pick up along the Jennette's Pier beach access. The federation's AmeriCorps member, Erica Connery, led the campers through a series of education activities that taught them the importance and impact of their volunteer work. The group spent time at the federation's office learning about water quality components, including a low-impact development tour on the property.

The students enjoyed some time on the water and spent an afternoon in the Roanoke Sound. They kayaked from the Manteo waterfront to the outskirts of Shallowbag Bay to help with one of the federation's oyster reef projects. They worked together to unload bags of oyster shell and observed important indicators in this habitat.
The group also explored the federation's living shoreline at Jockey's Ridge State Park and went seining to identify different critters in the area. They spent time talking with a Park Ranger to learn about the importance of state parks. While exploring the soundside shoreline, they collected a water sample that they used to examine plankton species.
It was a fantastic week for both the participants and the staff.
"Service in Science Camp is a great way for kids to experience some of the work we do to protect the coast. They really got into the activities and were surprised to learn about the simple impacts we can make to help our environment," Connery said.