The Federation is still accepting applications for its annual Derelict Fishing Gear Recovery Project. For the third year in a row, this project is open to commercial fishermen in northeastern North Carolina.
Watermen are accepted to this program annually to help N.C. Marine Patrol on select days during the "no-potting" period, typically from Jan. 15 – Feb. 7. The collection will take place in selected areas of Marine Patrol's District 1, which includes the Northern coast from the Virginia state line, Manteo to Swanquarter, including the Outer Banks to Ocracoke (Figure 1).
To qualify, fishermen must adhere to the following conditions: (1) have a valid Standard Commercial Fishing License (SCFL), (2) guarantee availability for work during the weeks of Jan. 18 and Jan. 25, 2016, (3) attend a mandatory training session to learn how to use project equipment (side-scan sonar and data collection tablets), as well as general project protocol.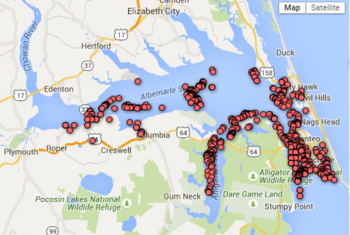 Payment is $400 per boat, per day, and a captain and one mate is required. Three days of work are guaranteed with acceptance to the program. Approximately 12 boats (12 captains and 12 mates) will be accepted for the 2016 cleanup.
In 2015, this project employed 24 commercial fishermen and removed just over 1,000 pots from the Virginia line to Hatteras.
Funded by the NOAA Marine Debris Program, this project is intended to improve habitat and water quality, as well as support commercial watermen. Applications will continue to be accepted until all positions are filled. Applications are available at www.nccoast.org/crab and can be mailed to 128 Grenville Street, Manteo, NC 27954 or faxed to 252-473-2402. For more information contact Ladd Bayliss at 252-473-1607 or laddb@nccoast.org.