The Wanchese Marine Industrial Park serves as a hub of fishing, seafood processing, boat building, dining, and site-seeing activities for the village of Wanchese. The Park borders the Roanoke and Pamlico Sounds. Along this perimeter, it boasts nearly a half mile of fringing coastal wetlands. This marsh helps to buffer and protect the industrial park and serves as important coastal habitat. It is also susceptible to erosion from storms, sea level rise and boat wakes.
The Federation partnered with the industrial park to protect 500 feet of shoreline through their living shoreline restoration projects.
Five Techniques on Display
There are a range of techniques that can be considered for a living shoreline project, including protecting salt marsh and restoring oysters. To protect the shoreline and demonstrate the variety of options that are available to shoreline property owners, a series of five, 100-foot sills, were installed by the Federation, volunteers, and a local marine contractor. The sills on display include an oyster dome sill, oyster bag sill, low-profile wooden sill, granite sill, and oyster castle sill. These five sill types are commonly used in living shoreline projects in North Carolina and across the country.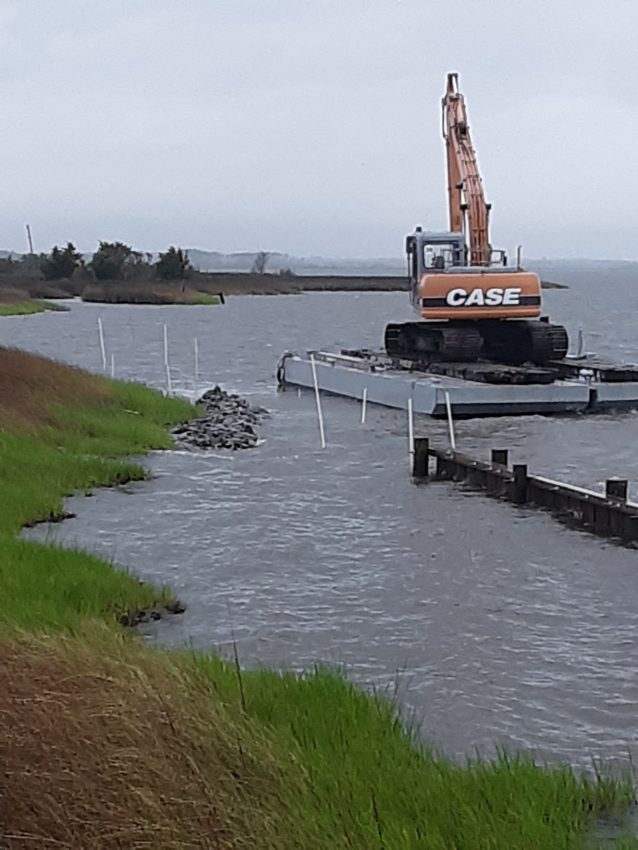 Combating Erosion while Creating Habitat and Education Opportunities
By completing this demonstration of five techniques, the Federation has created a site for sound-front property owners to visit where they can see a variety of living shoreline options on display. The 500-foot living shoreline demonstration reduces erosion, improves water quality, and provides an outdoor living laboratory for visitors.
Funding for this project was provided in part by the National Oceanic and Atmospheric Administration's Community-Based Restoration Program, the Honda Marine Science Foundation, and Camp-Younts Foundation, and generous volunteer and Federation membership support.