The North Carolina Coastal Federation supports clean energy that reduces dependence on fossil fuels. But it also wants to ensure all projects are thoroughly evaluated for any potential harm they might cause to the coastal environment.
The federation developed its position on wind energy in September 2016, following two public hearings about the proposed Wind Energy Area (WEA) off the coast of Kitty Hawk. It will likely be many years before any wind energy projects start on the site.
"The North Carolina Coastal Federation generally supports projects that produce clean non-polluting energy," the position summary document said. "At the same time, the federation strongly believes that no industry should be given a 'free pass' when it comes to protecting the environment and avoiding conflicts with traditional coastal and ocean uses.  We expect wind energy proposals to be strictly regulated to avoid, minimize and mitigate environmental impacts."
Written by the coastal advocates at the time, Ladd Bayliss and Mike Giles, the document states that the federation requests that any proposed wind energy projects are thoroughly evaluated for their environmental risks. The federation also wants approved wind energy projects to be monitored for long-term environmental consequences.
"As long as environmental effects are found to be negligible, we are hopeful that wind energy will reduce our reliance on fossil fuels and therefore help to mitigate climate change and sea level rise," the document said.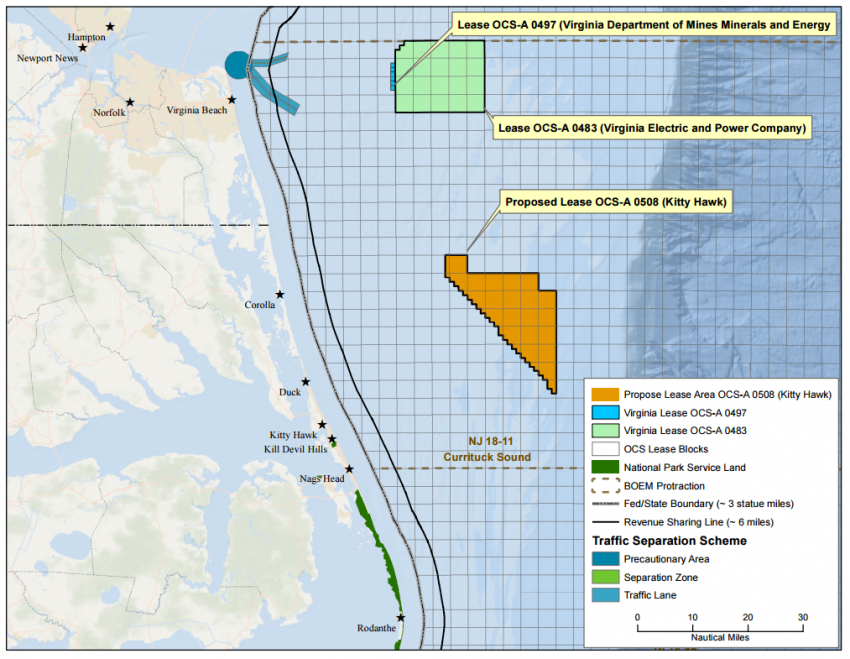 Context
The Bureau of Ocean Energy Management (BOEM) hosted a public hearing on the proposed Kitty Hawk WEA in Raleigh on Sept. 20, 2016. BOEM held a second meeting on Sept. 21 at Jennette's Pier in Nags Head, which is just a few miles down the road from Kitty Hawk.
The proposed WEA is 122,405 acres and is located 24 nautical miles from Currituck Beach and 32 nautical miles from Kitty Hawk. It will likely be many years before any wind projects on the site begin.
At the hearings, federal officials explained the auction process for the WEA. BOEM first announced the auction on Aug. 12.
The online auction started in early 2017, and Avangrid Renewables secured the development rights with a $9 million bid. The company is now conducting a site analysis between 2017 and 2022 to make sure the site is compatible for wind energy.
If a lease is granted and the developer has created a construction plan, BOEM will conduct an environmental analysis. The developer has 25 years to create a plan.
Two other proposed WEAs are located off the coast of Brunswick County. However, these areas were grouped into a leasing process with waters off the South Carolina coast to ensure a broader and more thorough look at how wind energy projects might affect North Atlantic right whales' calving grounds.