Restaurant List:
Restoration:
Recycled oyster shells are a valuable resource in North Carolina. They are used to build new reefs.
Free-floating baby oysters attach to the new reefs and grow more oysters.
Dumping oyster shells in landfills is banned in North Carolina because of their value for habitat restoration.
Environmental and Economic benefits:
Oyster reefs provide a habitat for a large variety of finfish and crabs. A 3.5-mile-long oyster reef can produce up to 6,900 pounds of crab and shrimp for harvest.
Oyster reefs help stabilize our soundside shorelines.
Oysters help restore water quality. A single oyster can filter up to 50 gallons of water per day.
Oysters are an important commercial fishery in North Carolina. The annual harvest is over 100,000 bushels contributing more than $5 million to the state's economy.
History:
From 2003 to 2018, the N.C. Division of Marine Fisheries operated a state-funded oyster shell recycling program that provided 6-15% of the shell needed for restoration projects. Unfortunately, the state-run oyster shell recycling program ended in 2018 due to state budget cuts and staff reductions.
In 2018, The Coastal Federation developed a pilot program to restart oyster shell recycling in the Outer Banks by working with area restaurants and volunteers.
How Restaurant to Reef Works:
Fill out either the restaurant application for business participation or the volunteer application to volunteer to collect and transport shells to collection sites. Please send fill out the appropriate form and it to victoriab@nccoast.org.
Once your application has been reviewed and accepted, you will be notified.
Restaurants are provided with 5-gallon plastic buckets with lids to collect the shell in. Filled buckets are picked up by volunteers on scheduled days and dropped off at the closest recycling location – Kill Devil Hills Recycling Center or the shell pile in the Wanchese Industrial Park.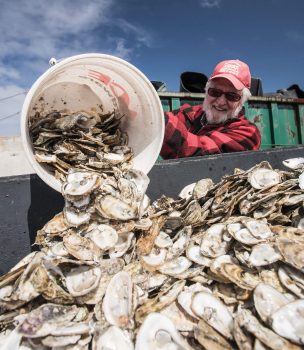 Monthly pick-up schedules are set at the beginning of each month. Clean, empty buckets are provided at each pick-up to start the recycling process all over again.
A short educational session is required for restaurants and volunteers to participate in the program.
The Federation is currently expanding the program on the Outer Banks and looking for additional restaurants and volunteers to participate.
Marketing and Promotion:
Restaurants participating in the Coastal Federation's Restaurant to Reef Oyster Shell Recycling Program, receive a window decal, a certificate of participation to hang up in their restaurant, as well as promotion on the Federation's website, and social media. By participating, you will be helping protect and restore North Carolina's beautiful coast.
For more information, contact Victoria Blakey at victoriab@nccoast.org or 252-473-1607.
Program's Progress to Date:
In the first five years of the Restaurant to Reef program (2018-2022), volunteers have collected over 3,280 bushels of shells, weighing more than 90 tons.
In 2020, 1,500 bushels were used from the recycling effort to build a new reef in Wysocking Bay in partnership with the N.C. Division of Marine Fisheries.
In Spring 2023, approximately 300 bushels of the recycled shell were placed by volunteer groups to create new patch oyster reefs behind Pea Island. This project was done in partnership with the Nature Conservancy and U.S. Fish and Wildlife.