Pine Knoll Shores Town Hall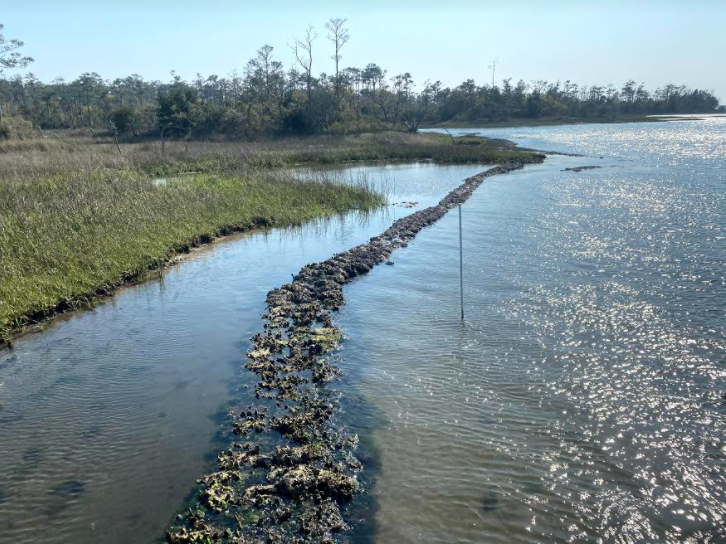 In 2020 the Coastal Federation partnered with the Town of Pine Knoll Shores and received funding from the N.C. Department of Justice Environmental Enhancement Grant Program and N.C. Land and Water Fund to build a 460 ft. living shoreline at the Town Hall. 
In April 2021, Restoration Systems constructed the majority of the living shoreline using bags of recycled oyster shells. 
Approximately 50 feet of the living shoreline is constructed using a new material from BIOMASON Inc. The new material utilizes all natural materials (oyster shell, jute/hemp fibers, aggregates) cemented together by their proprietary bacteria biocement. 
In May 2021, members from Conservation Corps N.C. worked alongside federation staff to plant 2,800 plugs of smooth cordgrass

.
Pine Knoll Shores Aquarium
Throughout the years, the Coastal Federation has had an ongoing partnership with the N.C. Aquarium at Pine Knoll Shores. In 2001, the federation partnered with the Aquarium to plant marsh grasses and construct a 400 ft. living shoreline made of rock materials. However, areas of the shore that were not protected by the living shoreline continued to erode, resulting in the loss of valuable salt marsh and oyster reef habitat. In 2017, federation staff teamed up with Aquarium staff, scientists from the UNC Institute of Marine Sciences, the National Oceanic and Atmospheric Administration (NOAA), Carteret Community College and Sandbar Oyster Company to address this erosion.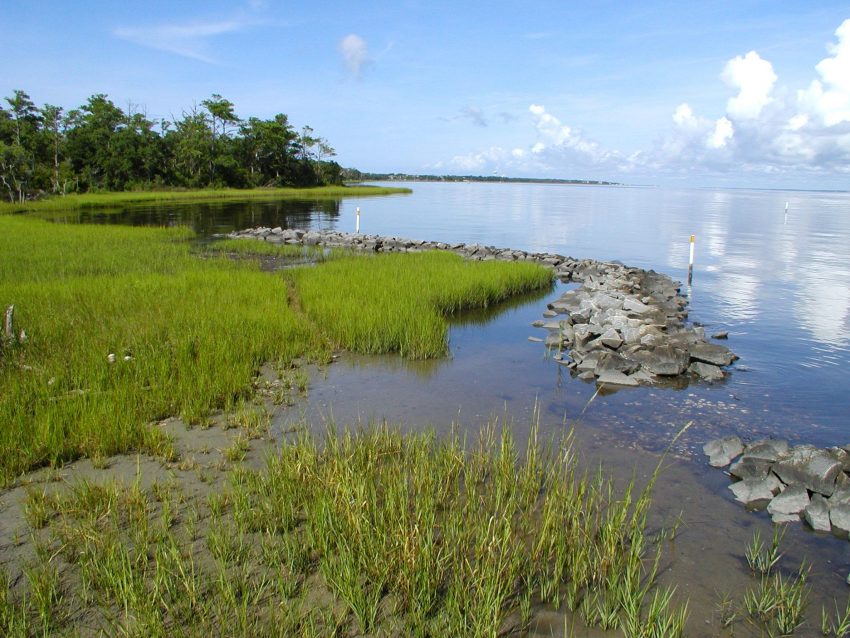 Sandbar Oyster Company used their biodegradable materials to create a new living shoreline right along the edge of the salt marsh. The Sandbar Oyster Company materials named "Oyster Catcher™", are composed of plant-fiber cloths, such as burlap and jute erosion control cloth, and infused with a mineral-based binder, like Portland cement.
By 2019, a new 185 ft. living shoreline was constructed using the Oyster Catcher™ materials, and was seeded with juvenile oysters. In the spring of 2018 and 2019 student and community volunteers also assisted in planting marsh grasses along the shore.
Through the implementation of this project and education and outreach efforts, the shoreline at the N.C. Aquarium at Pine Knoll Shores has received significant attention and has attracted numerous researchers to use the site for living shoreline research. The shoreline continues to be used as a demonstration site to educate others about living shorelines.
Funders: USFWS (1058)