In the spring of 2020, after several years of planning, construction began on a living shoreline at Whittaker Pointe in Oriental. The Whittaker Pointe peninsula serves as the primary defense for almost 300 town buildings, businesses, and residences against waves and surges from the Neuse River during storms and routine high wind events. Unfortunately, over 15 acres of the peninsula's shoreline have eroded away through the years. This erosion had accelerated due to the passage of numerous hurricanes including Florence and Michael, quickly threatening exposure of the town's infrastructure to the elements.
Completed in 2021, this living shoreline protects the peninsula from future storm damage and restores lost marsh habitat. Thousands of wetland grasses were planted landward of a 3,060 ft. rock and oyster shell bag sill designed by Quible & Associates, P.C. with structural engineering support from Gary Greene Engineers, and constructed by Carolina Marine Structures. The granite, from Wake Stone Corporation, was transported to the site by Double A Hauling, Inc. Loose and bagged recycled oyster shells were also placed by volunteers and Native Shorelines, a Davey company, to protect the Whittaker Creek side of the peninsula.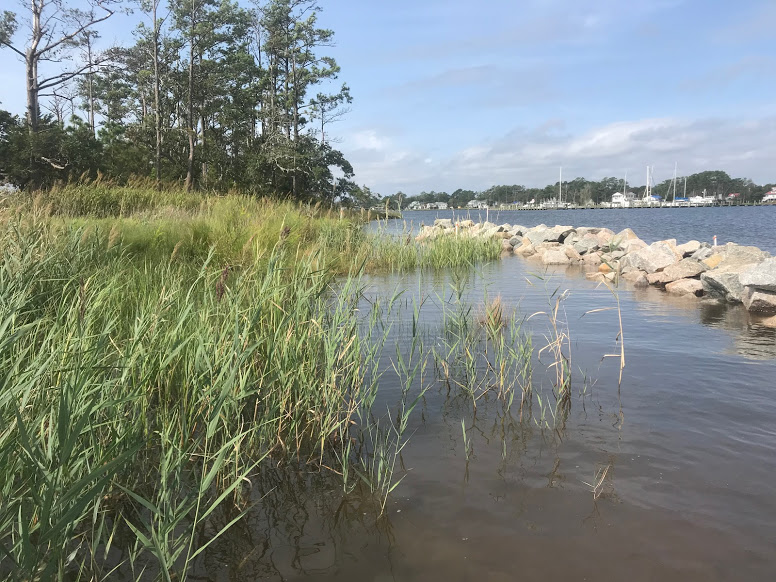 Local geologist Jim Blackerby, and Towndock.net brought forth the issue and need for a solution to the attention of Town officials, residents, and businesses as well as the Federation. Town Manager, Diane Miller, immediately recognized the importance of Whittaker Pointe in protecting the town and its infrastructure and wanted to implement an effective, environmentally friendly, and long-term solution to stabilize the shoreline. She, Mr. Blackerby, and Lisa Thompson, Harbor Waterfronts Advisory Committee Chair and manager and dockmaster of Sea Harbour Yacht Club, worked with Federation Living Shoreline Program Director Dr. Lexia Weaver to secure funding from the National Fish and Wildlife Foundation National Coastal Resilience Fund to build a living shoreline. Ms. Miller also worked to secure multiple matching funds from the Golden Leaf Foundation, the N.C. Department of Environmental Quality, and the United States Department of Agriculture Natural Resources Conservation Service Emergency Watershed Protection Program.
"The Town is extremely grateful to the partners who have signed on to assist with the restoration of the Whittaker Pointe shoreline and is excited about the progress already being made on the construction. We look forward to enjoying the protection afforded residential and commercial properties and the enhanced environment for fish and other wildlife that will once again make the restored Pointe their home," said Ms. Miller during construction.
The living shoreline slows down and reduces the impacts of waves, thereby restoring the marsh habitat that was lost and reducing further erosion.