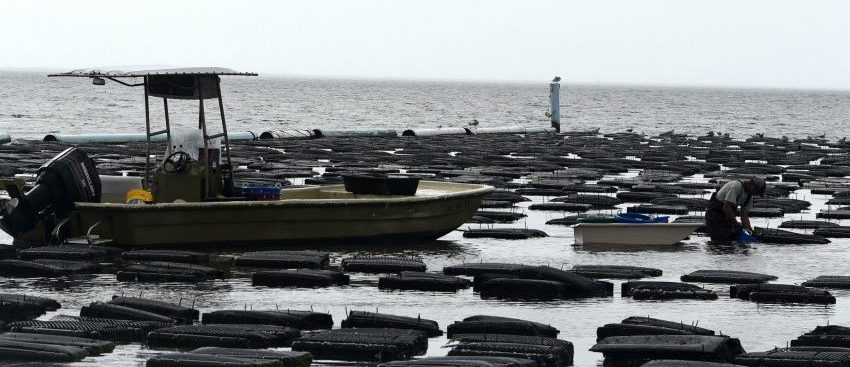 North Carolina Shellfish Mariculture Plan: 2017-2018 Plan Development Process
A multi-stakeholder group worked together to create a shellfish mariculture plan for North Carolina in order to grow the industry in a sustainable way. Shellfish mariculture is the cultivation of oysters, clams, mussels and other bivalves in contained areas in estuarine waters. Because most bivalves are filter feeders, mariculture helps improve water quality. North Carolina has great potential to lead the way in oyster mariculture because of its clean water and the dedicated scientists, fishermen, and policymakers who support the development of this industry.
In 2017, the North Carolina General Assembly passed Section 13.13 of Session Law 2017-57, directing the North Carolina Policy Collaboratory at UNC-Chapel Hill to use a stakeholder process to prepare a Shellfish Mariculture Plan for the state by December 2018. To fulfill this mandate, the Collaboratory is partnering with the University of North Carolina – Institute of Marine Sciences and other relevant stakeholders. The partnership is utilized the expertise of the North Carolina Coastal Federation's long-established and effective oyster stakeholder group that helped prepare the 2015 Oyster Restoration and Protection Plan for North Carolina. A subset of this group focused on developing the Shellfish Mariculture Plan. Development of this plan was a key step in implementing the mariculture goal of the Oyster Restoration and Protection Plan for North Carolina that includes seven major goals related to oyster restoration and mariculture. It can be read in full at ncoysters.org.
By law, the Shellfish Mariculture Plan includes an evaluation of best practices in other states and nations, analysis of siting strategies for shellfish mariculture operations and recommendations for improvements to legal protections for mariculture operations, cultch planting and strategies for control of shellfish pests. The Collaboratory, in consultation with various stakeholders, also developed conceptual plans and recommendations to promote the state's shellfish harvesting heritage, including the creation of a North Carolina Oyster Trail and a state Oyster Festival.
Stakeholder Working Group
– Troy Alphin, University of North Carolina – Wilmington
– Will Best, N.C. Department of Commerce
– Lisa Campbell, Duke University Marine Lab
– Bill Cary, Brooks Pierce
– Bree Charron, North Carolina Coastal Federation
– David Cerino, Carteret Community College
– Michelle Clower, North Carolina Coastal Federation
– Anne Deaton, N.C. Division of Marine Fisheries
– Dave Eggleston, N.C. State University, CMAST
– Erin Fleckenstein, North Carolina Coastal Federation
– Dave Forcinito, Southern Foods
– Michael Graven, N.C. Divison of Marine Fisheries
– Kasia Grzebyk, University of North Carolina Policy Collaboratory
– Jane Harrison, North Carolina Sea Grant
– Jonathan Howell, N.C. Division of Coastal Management
– Shannon Jenkins, N.C. Department of Marine Fisheries, Shellfish, Sanitation and Recreational Water Quality Section
– Mary Penny Kelley, N.C. Department of Environmental Quality
– Lauren Kolodij, North Carolina Coastal Federation
– Niels Lindquist, University of North Carolina – Institute of Marine Sciences
– Tom Looney, North Carolina Coastal Federation
– Todd Miller, North Carolina Coastal Federation
– Steve Murphey, N.C. Division of Marine Fisheries
– Grant Murray, Duke University Marine Lab
– Charles Pete Peterson, University of North Carolina – Institute of Marine Sciences
– Martin Posey, University of North Carolina – Wilmington
– Carol Price, N.C. Aquariums
– Brandon Puckett, North Carolina Coastal Reserve and National Estuarine Research Reserve
– Ken Riley, NOAA, Habitat Conservation Division, National Marine Fisheries Service Southeast Region
– Jay Styron, Carolina Mariculture Co.
– Jack Thigpen, North Carolina Sea Grant
– Chris Voss, University of North Carolina – Institute of Marine Sciences
– Jeffrey Dennis Warren, University of North Carolina Policy Collaboratory
– Chuck Weirich, North Carolina Sea Grant
– Susan White, North Carolina Sea Grant
– Ami Wilbur, University of North Carolina – Wilmington
– Ted Wilgis, North Carolina Coastal Federation
– Ana Zivanovic-Nenadovic, North Carolina Coastal Federation