Shoreline Restoration and Stormwater Runoff Reduction
Along the shoreline at the Carteret Community College campus in Morehead City, a variety of living shoreline approaches were installed to demonstrate environmentally friendly alternatives to traditional shoreline stabilization methods.
Beginning in 2004, the Federation worked with many partners to build a living shoreline along the western portion of the campus using a variety of methods and materials. These techniques included offshore stone breakwaters, stone and oyster shell bag sills, reef balls, a stormwater wetland, and plantings of salt marsh and other wetland plants. The project was part of a campus-wide stormwater management plan and also included the transplanting and enhancement of seagrass. In addition to shoreline stability, these techniques were designed to provide salt marsh, oyster, and seagrass habitats and to improve the water quality of Bogue Sound.
The eastern portion of the shoreline at the College that was not protected by living shorelines sustained more than $1 million in damage as a result of Hurricane Florence in 2018. Due to damages to their bulkhead, the College was concerned that another storm like Hurricane Florence could compromise the Bryant Student Center foundation and cause potentially catastrophic damage to the Crystal Coast Civic Center and multiple other buildings. The imminent damage motivated college officials and community members to protect the site by building living shorelines after seeing the longevity and success of the one that the Federation had built over a decade ago along the western portion of their shoreline.
In 2019, the Federation worked with the College and Arendell Engineers to design and secure funding to restore the remaining College shoreline with an additional living shoreline. Construction of a 1,250-foot granite sill and the planting of 25,430 salt marsh grasses was completed in 2021, protecting and restoring 17.5 acres of salt marsh, oysters, and upland including 4 buildings on campus. An additional 11,131 plugs of salt marsh grasses were planted in spring 2022 and 2023.
The rock sill was constructed by T.A. Loving. Students from Morehead City Middle School and Teacher's Pet helped plant marsh grasses along with staff from Carteret Community College, Parker Offshore, LLC, and Big Rock Sports, LLC. Additionally, several local Scouts, members from Unitarian Coastal Fellowship in Morehead City, and other community volunteers joined in the effort.
Rebuilding the campus shoreline and carefully planning its resilient restoration is helping to protect the educational instruction, employment, community water access, and events that generate business and revenue within Carteret County. The project was supported by funds from the Golden LEAF Foundation, the National Fish and Wildlife Foundation Emergency Coastal Resilience Fund, the Federal Emergency Management Agency, and the N.C. Community College System.
Learn more from the Carteret News-Times article here.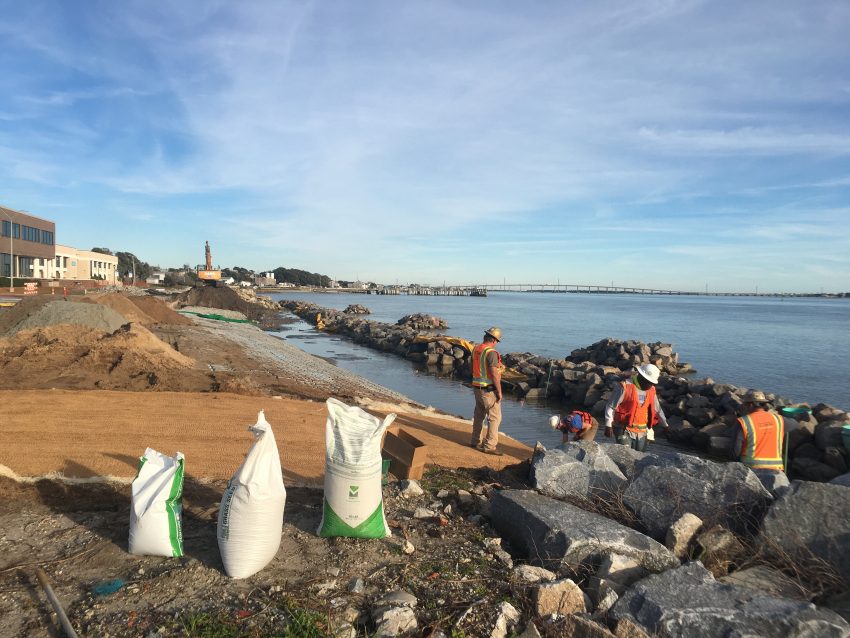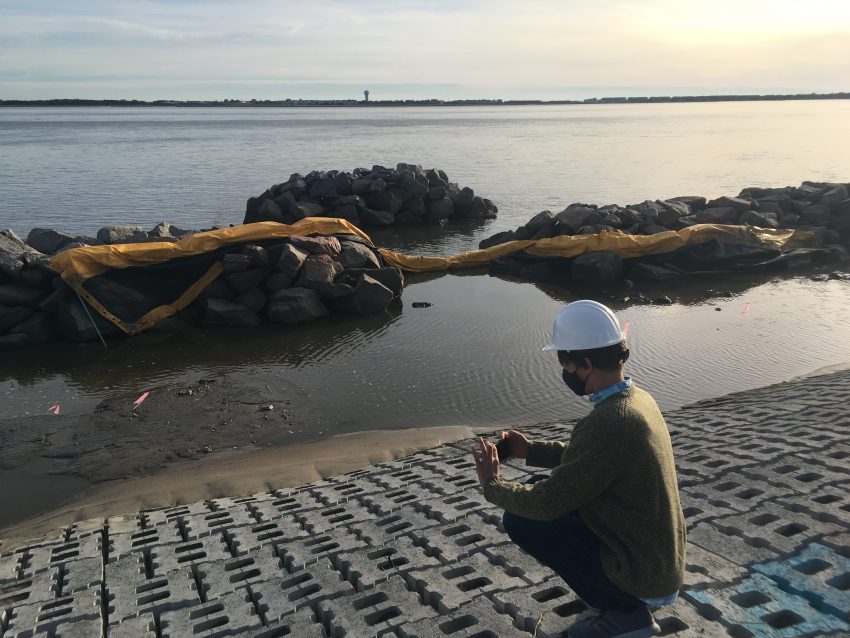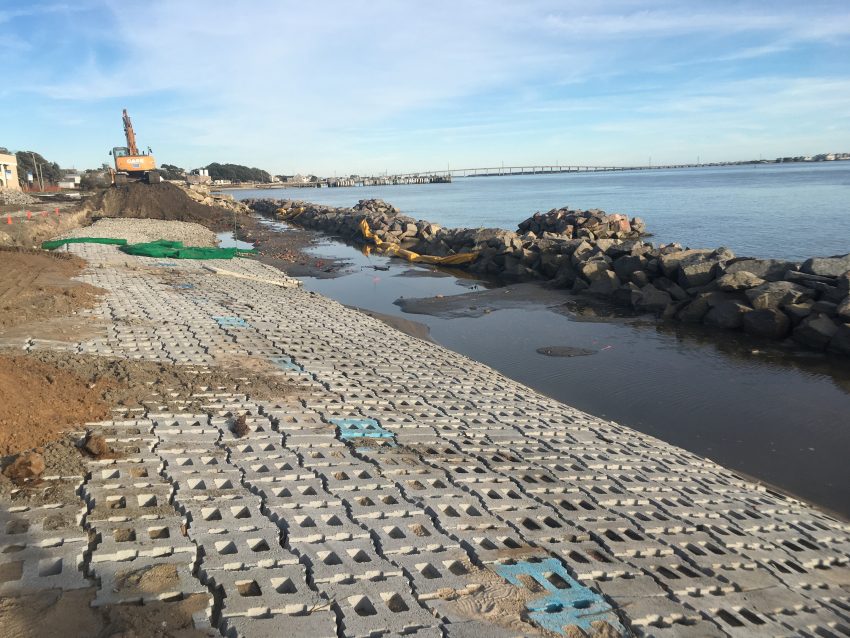 Construction underway at the living shoreline at Carteret Community College in the winter of 2020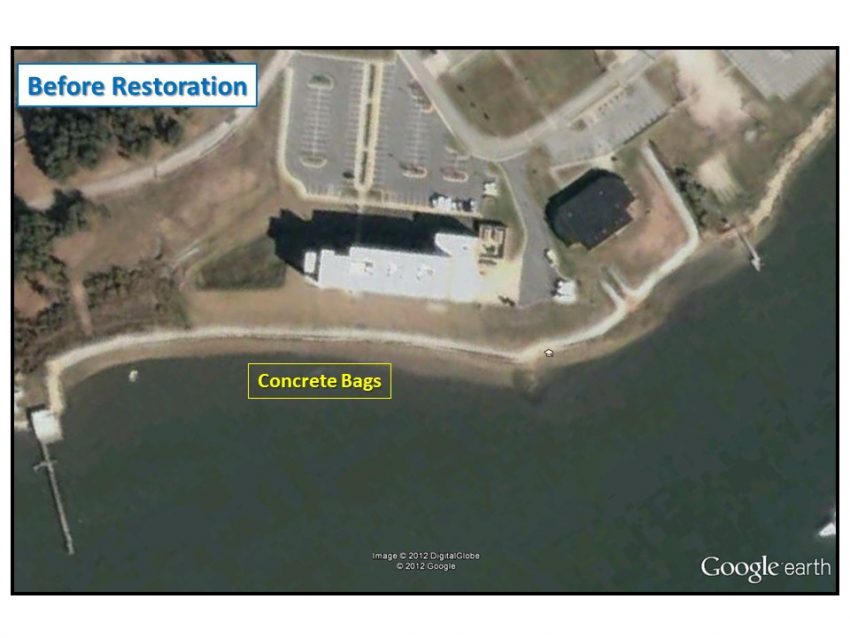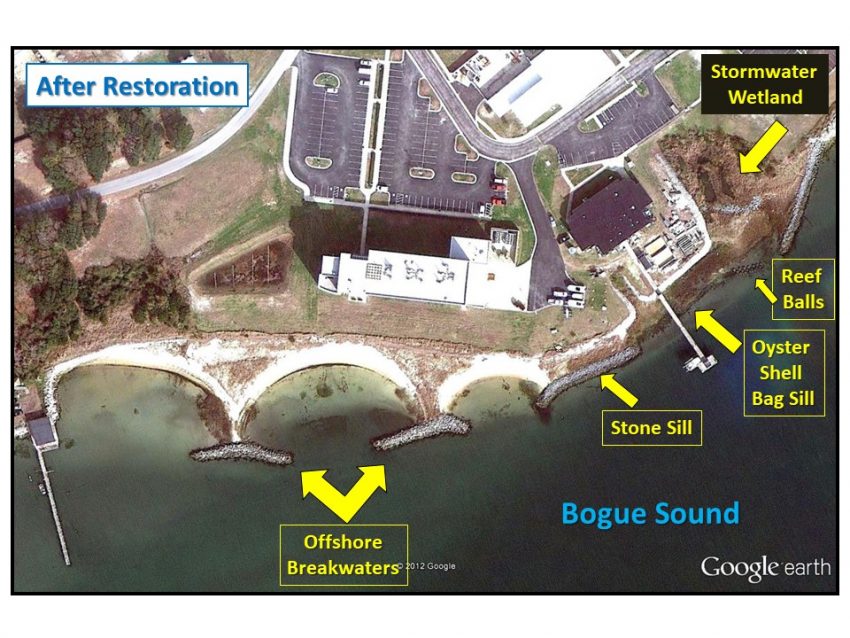 The western Carteret Community College campus before (left) and after (right) shoreline restoration. Note the lack of estuarine habitat prior to restoration (left). The various living shoreline methods provide erosion control as well as a valuable habitat for fish, crabs, and other estuarine life (right).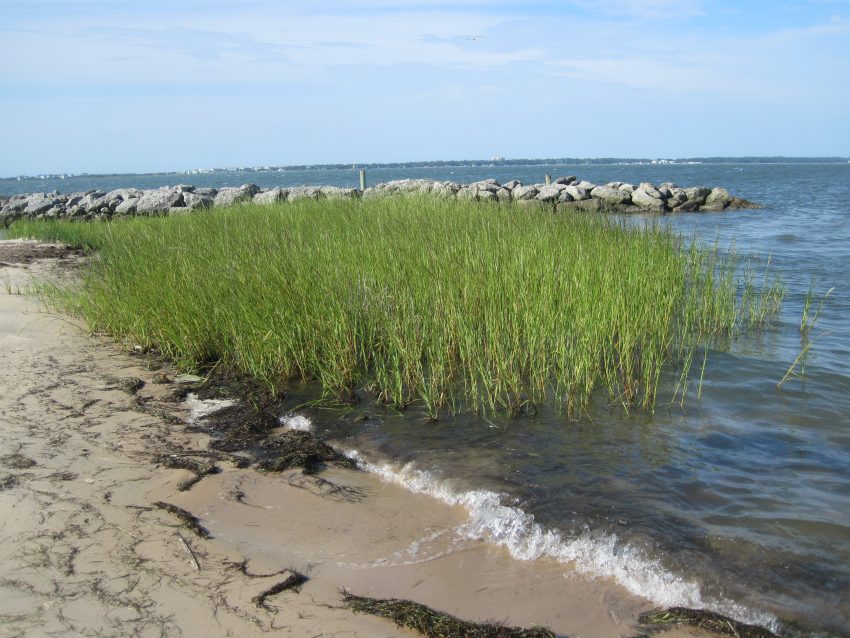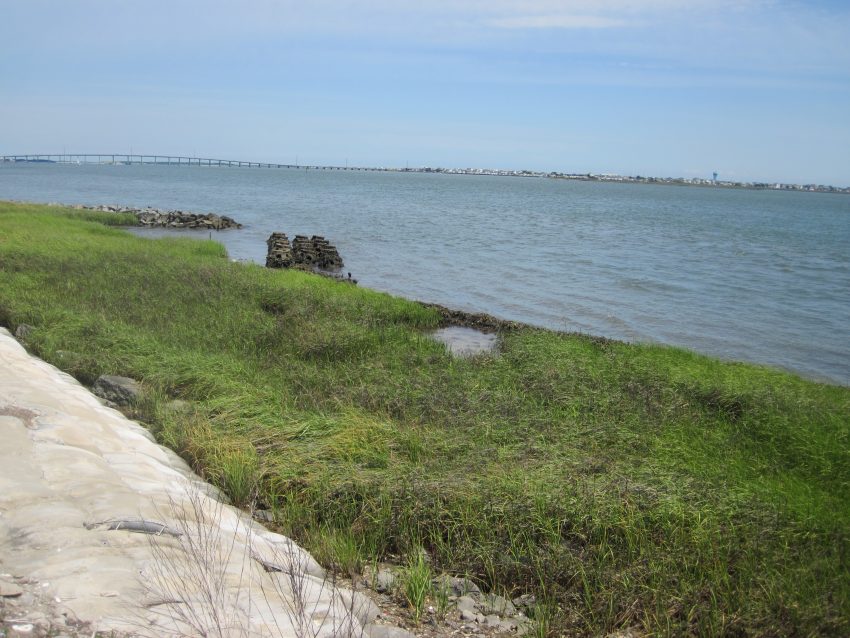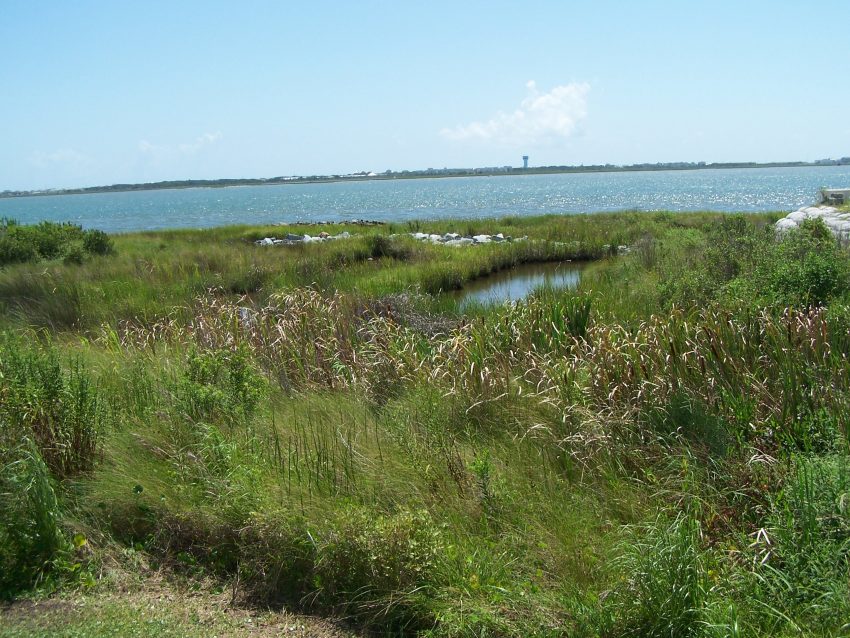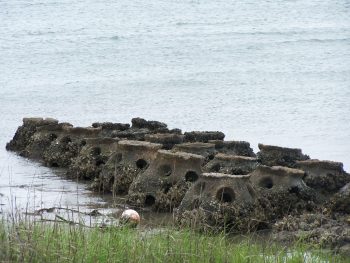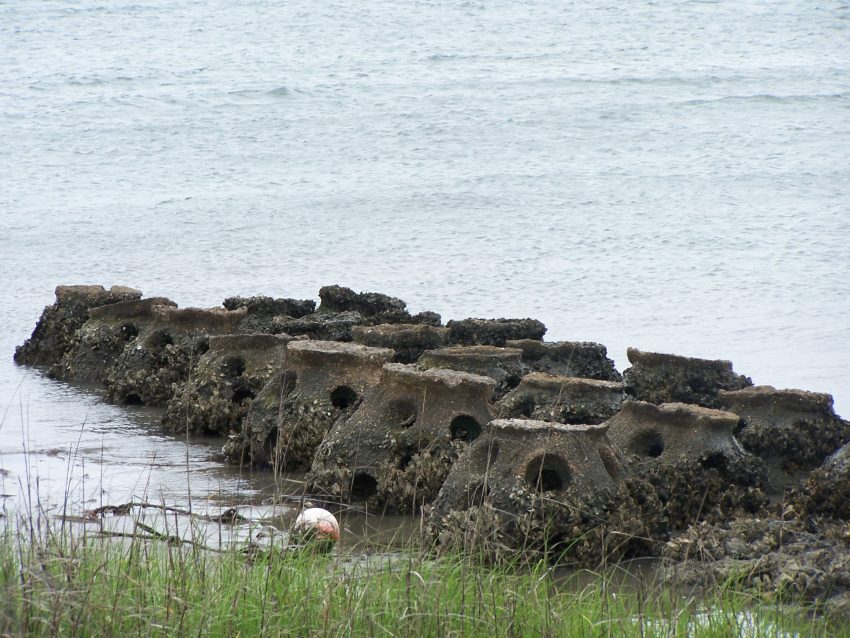 New oysters grow on the reef balls and on the oyster shell bag sill along the Carteret Community College shoreline.
Project Partners
Project Partners for these efforts include: Carteret Community College, N.C. State University's Center for Marine Science & Technology, Duke University Marine Laboratory, University of Chapel Hill's Institute of Marine Sciences, National Oceanic and Atmospheric Administration, North Carolina Sea Grant, N.C. Division of Marine Fisheries, N.C. Shellfish Sanitation Section, N.C. Division of Water Quality, students and community volunteers.
Funding
Funding was provided by the U.S. Environmental Project Agency, National Fish and Wildlife Foundation, National Oceanic and Atmospheric Administration, Restore America's Estuaries, Albemarle- Pamlico National Estuary Partnership, North Carolina Land and Water Fund, and Progress Energy. The College also provided support through the Federal Emergency Management Agency, Golden Leaf Foundation, institutional funds, and state Hurricane Florence Recovery funds.
Resources