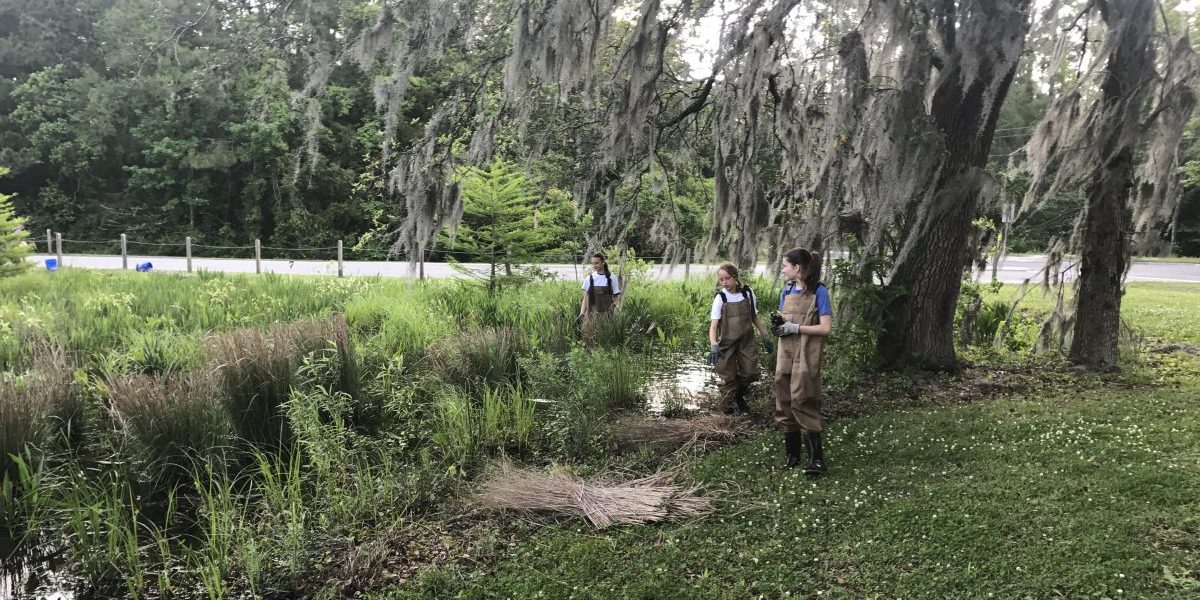 Stormwater runoff is the primary cause of water quality impairment, or water quality that doesn't meet shellfishing standards, in the Bradley and Hewletts Creek watersheds. Intense urbanization has hardened the natural landscape. Instead of soaking into the ground and being taken up by vegetation, a much larger amount of rain now quickly runs over the urban landscape and into the creeks. This stormwater runoff picks up bacteria and transports them to the creeks, causing shellfish closures and swimming advisories. The North Carolina Coastal Federation, City of Wilmington, Town of Wrightsville Beach and project partners developed a watershed restoration plan in 2007 that focuses on reducing the amount of stormwater runoff transporting bacteria and pollutants into the creeks. Partners recognize that restoring water quality in these creeks will be a long-term, multi-decade effort.
The federation continues to lead a collaborative effort that is now focused on implementing the watershed restoration plan by designing and installing stormwater retrofit projects throughout the watersheds. Working with Wilmington's Heal Our Waterways program as well as Wrightsville Beach, N.C. Department of Transportation, New Hanover Soil and Water Conservation District, UNC Wilmington and other community partners, the federation is working to reduce the volume of stormwater runoff flowing into Bradley and Hewletts Creeks. See some of our exciting progress below.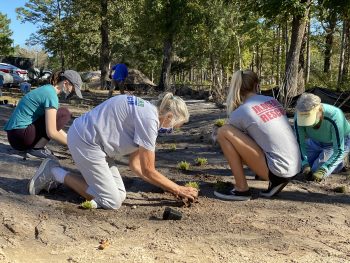 UNCW Suite Services Loop Rain Garden – 2020
Working with UNCW staff and students, City of Wilmington Heal Our Waterways Program, engineering firm Coastal Stormwater Services, Inc., and Flora Landscapes, we designed and built a shallow landscaped rain garden on Suite Services Loop on the UNCW campus. It was completed with native plants in the fall of 2020 and will now help slow down, spread out and soak in the rain. About one million gallons of polluted runoff will be reduced on campus with this project annually.
The Workshop Wrightsville Beach–2020
Working with the federation, the Town of Wrightsville Beach and adjacent businesses, the Workshop coffee shop completed a water quality project in March 2020, replacing a compacted dirt/turf community gathering area with 1,200 ft2 of pervious pavers. This retrofit project greatly enhanced the aesthetics and welcoming nature of this popular destination in Wrightsville Beach. In addition, it significantly reduces the amount of polluted runoff from the businesses' parking areas, rooftops, etc., protecting the water quality of nearby Banks Channel, which is heavily used for swimming, boating and fishing.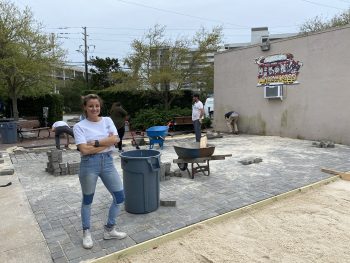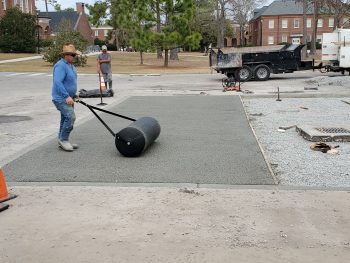 UNCW Parking Lot Retrofits–2020
The federation worked with UNCW, City of Wilmington Heal Our Waterways and New Hanover Soil and Water Conservation to reduce runoff flowing from two campus parking lots. Sections of the asphalt lot around select drop inlets were removed and replaced with permeable pavement. A total of 11 storm inlet retrofits were constructed that now infiltrate average rain fall events.
New Hanover County Arboretum Innovation Infiltration–2019
The federation partnered with the New Hanover County Cooperative Extension to design and build an innovative system to capture stormwater runoff from the Arboretum's roof-tops, paved areas and parking lots. Before the project was installed, stormwater runoff was flowing through storm pipes into Bradley Creek. Now the runoff is captured and redirected to an infiltration system and bioretention area under sandy soil where it slowly soaks into the ground.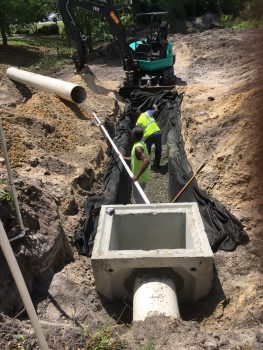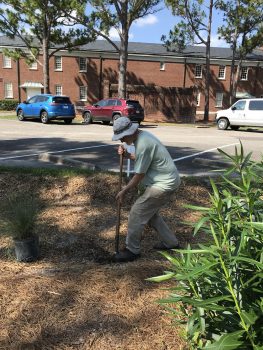 UNCW Rain Gardens–2019
The federation worked with UNCW and the City of Wilmington's Heal Our Waterways to design and construct rain gardens on the UNCW campus with Section 319 funding and funds from Heal Our Waterways. The gardens were planted by community volunteers, UNCW faculty and staff, federation staff and Heal Our Waterways.
Wrightsville Beach Animal Hospital — 2019
Project partners designed, constructed and planted a 240 square foot rain garden at the Wrightsville Beach Animal Hospital in the Bradley Creek watershed. The site not collects rainwater from the roof and directs it to the rain garden where it soaks in. Coastal Stormwater Services, Inc. provided engineering for the site and Flora Landscaping excavated and planted the garden with native flowering plants and shrubs.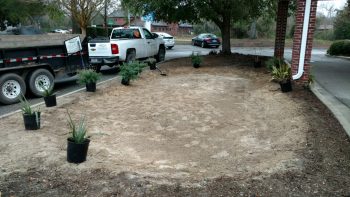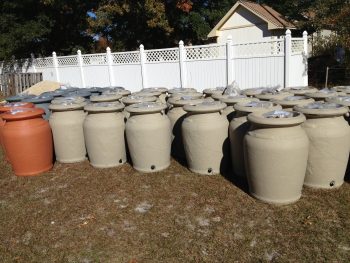 Palmetto Point and Greenville Loop Road — 2019
Project partners worked with residents of the Palmetto Pointe subdivision to install a series of rainwater harvesting systems throughout the neighborhood.  They installed seven 50-gallon rain barrels, one 85-gallon barrel, one 100-gallon barrel and a 500-gallon cistern that all reduce the volume of runoff entering nearby Bradley Creek and provide a source of water for later use.
New Hanover County Arboretum and Waterman's Brewing Company — 2018
Permeable concrete now replaces conventional asphalt at the New Hanover County Arboretum and Waterman's Brewing Company, both of which are in Wilmington.
The permeable paving projects at the Arboretum and Waterman's Brewing are funded by an EPA Section 319 grant to install a series of stormwater projects in the Bradley and Hewletts Creek watersheds. The arboretum project began early 2018 and was completed in summer 2018. The Waterman's Brewing project began the first week of May 2018.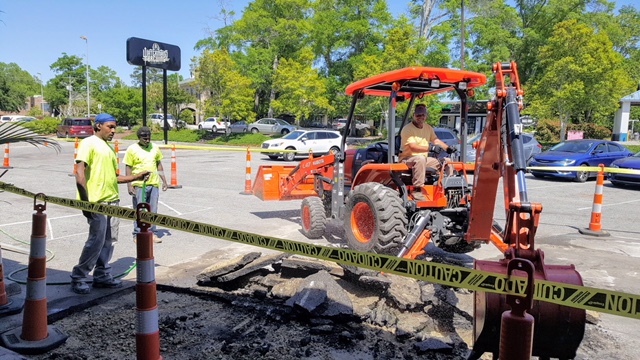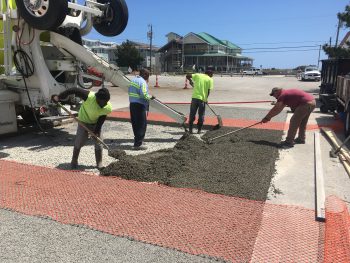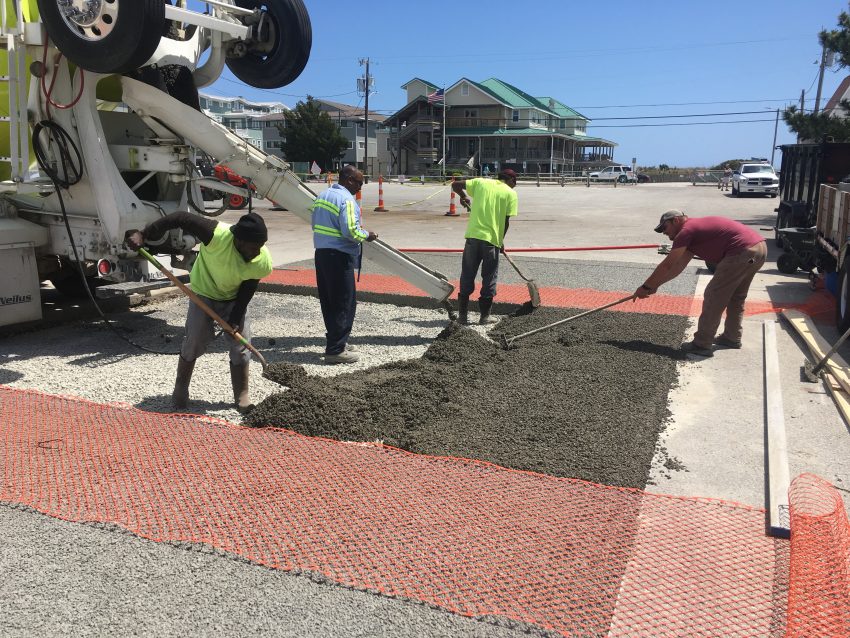 Hanover Seaside Club — 2018
This retrofit project includes two sites where impervious paving was replaced by permeable paving at a public parking lot and at Hanover Seaside Club, both in Wrightsville Beach. These projects were funded by the N.C. Clean Water Management Trust Fund.
A section of the public parking lot was replaced with permeable pavement in November 2017. The permeable pavement infiltrates polluted surface runoff from public streets and a portion of the existing parking lot. Next, multiple street and parking lot drains were disconnected from stormwater outfall pipes along Banks Channel and redirected so that runoff moving through the permeable pavement is directed to an engineered infiltration system located beneath the existing parking lot. Rather than allowing runoff to flow into Banks Channel, this system redirects runoff to soak into the ground.