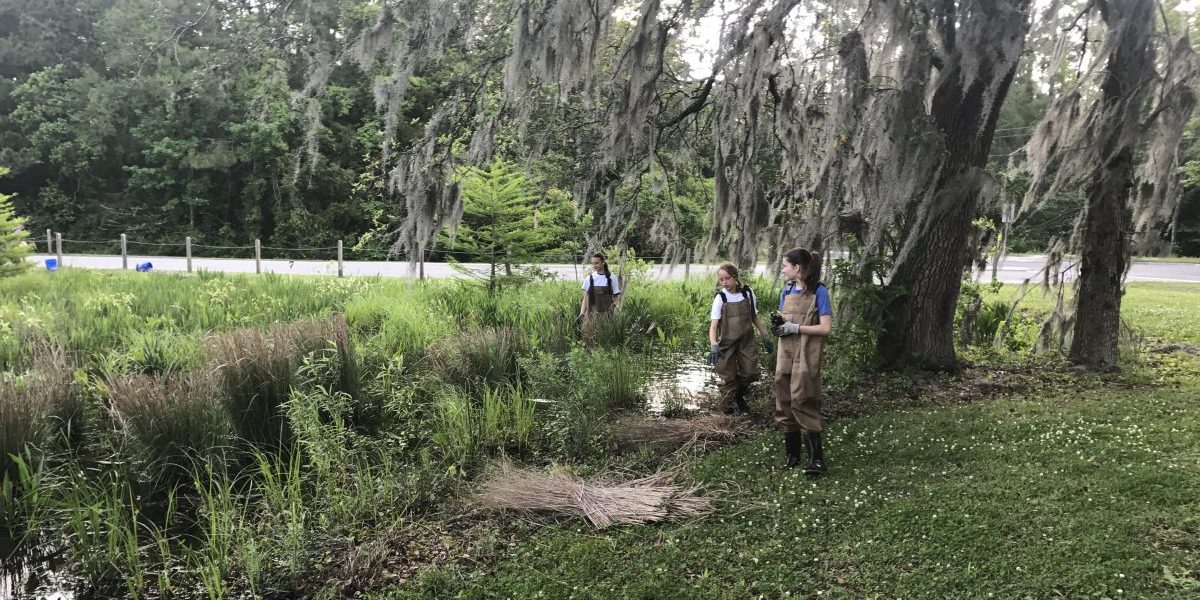 Stormwater runoff is the primary cause of water quality impairment, or water quality that doesn't meet shellfishing standards, in the Bradley and Hewletts Creek watersheds. Intense urbanization has hardened the natural landscape. Instead of soaking into the ground and being taken up by vegetation, a much larger amount of rain now quickly runs over the urban landscape and into the creeks. This stormwater runoff picks up bacteria and transports them to the creeks, causing shellfish closures and swimming advisories. The North Carolina Coastal Federation, City of Wilmington, Town of Wrightsville Beach and project partners developed a watershed restoration plan in 2007 that focuses on reducing the amount of stormwater runoff transporting bacteria and pollutants into the creeks. Partners recognize that restoring water quality in these creeks will be a long-term, multi-decade effort.
The federation continues to lead a collaborative effort that is now focused on implementing the watershed restoration plan by designing and installing stormwater retrofit projects throughout the watersheds. Working with Wilmington's Heal Our Waterways program as well as Wrightsville Beach, N.C. Department of Transportation, New Hanover Soil and Water Conservation District, UNC Wilmington and other community partners, the federation is working to reduce the volume of stormwater runoff flowing into Bradley and Hewletts Creeks. See some of our exciting progress below.
Recent Projects
Bradley and Hewletts Creeks Watershed Restoration 2019 Updates
Two infiltration systems were designed and constructed to redirect stormwater runoff from the New Hanover County Arboretum's roof-tops, paved areas and parking lots formerly flowing through storm pipes into the headwaters of Bradley Creek. Now, the runoff flows into engineered infiltration systems located beneath the sandy soil of an existing low area, where it slowly percolates into the ground, allowing pollutants to be removed and improving the health of Bradley Creek. Community volunteers helped plant the areas with native plants.
The federation, UNCW and the City of Wilmington's Heal Our Waterways initiative partnered to design and build two rain gardens on UNCW's campus to help reduce stormwater runoff. The first phase of the gardens was planted June 17 by volunteers in front of DePaolo Hall and beside Randall Drive. For more information on this project, click here.
This project is a part of a 319 grant funded project to the federation to implement stormwater reducetion projects in the Bradley Creek Watershed. UNCW is the largest landowner in this watershed and will be a part of the solution to lessen pollution by redirecting rainwater away from storm drains.
Wrightsville Beach Animal Hospital — 2019
Project partners designed, constructed and planted a 240 square foot rain garden at the Wrightsville Beach Animal Hospital in the Bradley Creek watershed. The site not collects rainwater from the roof and directs it to the rain garden where it soaks in. Coastal Stormwater Services, Inc. provided engineering for the site and Flora Landscaping excavated and planted the garden with native flowering plants and shrubs.
Palmetto Point and Greenville Loop Road — 2019
Project partners worked with residents of the Palmetto Pointe subdivision to install a series of rainwater harvesting systems throughout the neighborhood.  They installed seven 50-gallon rain barrels, one 85-gallon barrel, one 100-gallon barrel and a 500-gallon cistern that all reduce the volume of runoff entering nearby Bradley Creek and provide a source of water for later use.
New Hanover County Arboretum and Waterman's Brewing Company — 2018
Permeable concrete now replaces conventional asphalt at the New Hanover County Arboretum and Waterman's Brewing Company, both of which are in Wilmington.
The permeable paving projects at the Arboretum and Waterman's Brewing are funded by an EPA Section 319 grant to install a series of stormwater projects in the Bradley and Hewletts Creek watersheds. The arboretum project began early 2018 and was completed in summer 2018. The Waterman's Brewing project began the first week of May 2018.
Hanover Seaside Club — 2018
This retrofit project includes two sites where impervious paving was replaced by permeable paving at a public parking lot and at Hanover Seaside Club, both in Wrightsville Beach. These projects were funded by the N.C. Clean Water Management Trust Fund.
A section of the public parking lot was replaced with permeable pavement in November 2017. The permeable pavement infiltrates polluted surface runoff from public streets and a portion of the existing parking lot. Next, multiple street and parking lot drains were disconnected from stormwater outfall pipes along Banks Channel and redirected so that runoff moving through the permeable pavement is directed to an engineered infiltration system located beneath the existing parking lot. Rather than allowing runoff to flow into Banks Channel, this system redirects runoff to soak into the ground.
Read more
Blockade Runner Beach Resort — 2017
Working with the federation, the Blockade Runner in Wrightsville Beach disconnected two stormwater outfall pipes that discharged runoff from the 2-acre resort into Banks Channel. The outfall pipes were redirected into a series of pipes underneath the soundside lawn of the resort. This new system allows polluted runoff to infiltrate the sandy soils below. A 2,100-gallon cistern was also installed and collects rainwater for irrigation, reducing the resort's municipal water use by around 25 percent.