Our natural habitats are adapted to weather coastal storms, sea level rise and other stressors. While wetlands can't protect us from the devastating flooding of a storm like Hurricane Florence, healthy habitats – and good planning – can shield us from some of the worst impacts and can help our communities recover more quickly. The North Carolina Coastal Federation's Coastal Resilience Initiative strengthens our natural defenses by restoring habitats and protecting our coastal communities.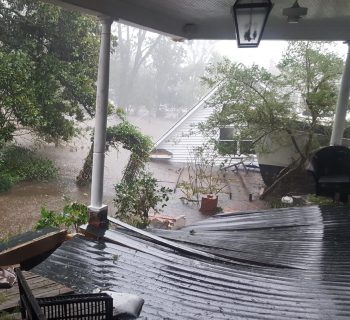 We are witnessing an increase in the number and severity of storms. That's exactly what scientists have predicted as an indicator of climate change.
Hurricane Florence's sustained assault on North Carolina brought record-breaking rainfall, flooding, and devastation to a huge number of communities in its path. In addition to the environmental impacts, our hearts go out to the many people impacted by this storm.
The fall of 2017 was another record-breaking year for hurricanes, with Harvey, Irma and Maria impacting coastal communities on the east coast and Gulf of Mexico. The federation collaborates with sister organizations that restore coastal habitats including the Galveston Bay Foundation outside of Houston and Tampa Bay Watch in Florida. Their experiences – and now ours – confirm what we know to be true: Natural habitats are more resilient to storms, and we need to strengthen our natural defenses here in coastal North Carolina to protect our coastal communities.
In addition to post-hurricane reports from coastal professionals, university researchers in North Carolina have published peer-reviewed papers documenting that properties with bulkheads experienced 93 percent of post-hurricane shoreline damage and had higher maintenance and repair costs than natural shorelines and revetments. Research also demonstrates that natural marshes and living shorelines protected estuarine shorelines from erosion better than bulkheads during Hurricane Matthew last year. Read these full scientific articles to learn more:
This is a long-term approach to a long-term challenge — but you can help turn the tide today.
Make your gift today to support the Coastal Resilience Initiative, promoting coastal resiliency and restoring more than 5,000 acres of wetlands over the next three years.
Because a healthy coast is our best defense.
Coverage by Coastal Review Online
In North Carolina, we've lost nearly half our wetlands, according to 2015 estimates. While wetlands can't stop 10 feet of storm surge from flooding coastal property, they can buffer waves and reduce erosion during smaller storms and before and after the surge hits. Salt and freshwater wetlands throughout the coastal plain can help mitigate flooding during normal storm events. Good planning and retrofitting our watersheds to mimic the natural hydrology can help protect water quality and give water a place to go.
The Coastal Resilience Initiative takes a multi-pronged approach to strengthening our natural defenses by restoring wetland buffers and living shorelines, protecting existing wetlands from illegal destruction, and by working with farmers to convert marginal cropland back into large wetland areas. All of these efforts combined will restore more than 5,000 acres of wetlands over the next three years — more than offsetting our annual losses. The initiative also includes an education and outreach component to increase awareness about the need for resiliency and what we can do at the community, local and state levels.
The initiative includes:
•  Living shorelines: The Coastal Resilience Initiative will restore living shorelines in about two dozen locations along our coast in 2018. These living shorelines restore habitat, protect our coast from erosion and damage from storms, improve water quality and provide recreational opportunities such as fishing, swimming and public access. These projects demonstrate the value of living shorelines, and help create consumer demand for similar projects up and down our coastline as an alternative to bulkheads.
•  Protect existing wetlands: Another part of this initiative is to protect and restore the existing wetlands that buffer our coast from floods and pollution. We keep a sharp eye out for illegal conversions of wetlands and work to find alternatives to legal wetland loss by supporting low impact development and green design.
•  Restoring farmland: Over the next three years, the federation will work in partnership with the Natural Resources Conservation Service to restore more than 5,000 acres of farmland back to wetlands. We will work directly with local farmers and landowners who opt in to this restoration program. Once completed, these restored wetlands will significantly offset wetland losses with a net gain of more than 3,500 acres in eastern North Carolina, and will absorb nearly seven billion gallons of runoff from large rain events.
•  Watershed restoration plans: The federation will develop new watershed restoration plans for our coastal communities each year, and implement the plans that we've already prepared. These plans identify pollutant sources and land use changes in the watershed, and prioritize actions to restore habitat and water quality. These plans are required to apply for federal funding for water quality improvements. Stormwater runoff reduction measures already installed through watershed plans have been shown to reduce bacteria and sediment by over 90% in some places, and reduce polluted runoff by about 500,000 gallons in each major storm.
•  Outreach and education: An equally important part of this initiative involves encouraging our friends, neighbors and decision-makers to take action to protect our coast. The education and outreach component of the Coastal Resilience Initiative will convey information about coastal habitats and water quality, threats, resiliency actions through the initiative and what individuals can do to help. The initiative will not only implement on-the-ground projects and develop plans for future work, but will also work to change the hearts and minds of North Carolinians through public forums and workshops, as well as communications through social media, email and print materials.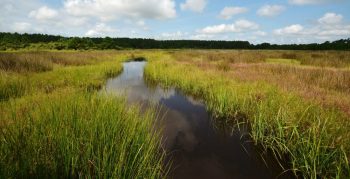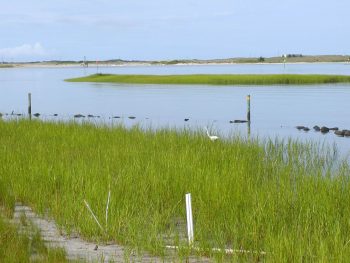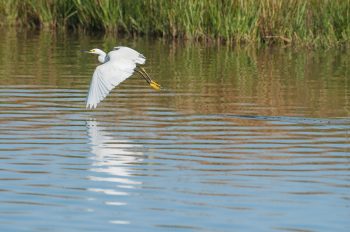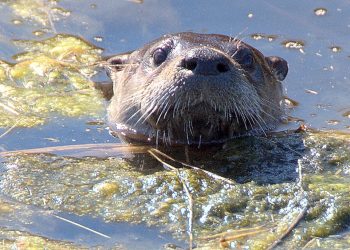 The federation made significant progress on this initiative in 2018 by completing the wetland restoration design on 4,800 acres, installing stormwater retrofits that prevent 7,193,268 gallons of polluted stormwater from entering coastal waters annually and restoring 12 acres of oyster reef and over half a mile of living shorelines. We also held eight continuing education workshops to train others to complete resilience projects and educated over 26,000 people directly through presentations, field events and tours. Our team worked at the community level coastwide to put together plans to restore local watersheds and completed an 18-month collaborative process to develop the new N.C. Shellfish Mariculture Strategic Plan.
The State Climate Risk Assessment and Resiliency Plan
At the end of October 2018, Governor Roy Cooper issued Executive Order 80 highlighting North Carolina's commitment to fight climate change while growing clean energy technologies. In introducing the order, Governor Cooper referenced the record flooding and storm surges from Hurricane Florence and other storms and connected the intensification of those events to climate change. "With historic storms lashing our state, we must combat climate change, make our state more resilient and lessen the impact of future natural disasters," commented Governor Roy Cooper.
Executive Order 80 directs the N.C. Department of Environmental Quality to develop a State Climate Risk Assessment and Resiliency Plan by March of 2020. The Coastal Federation is working with the Department, coastal communities, elected officials, scientists, policy-makers, non-profits and other stakeholders to develop the coastal portion of this plan.
With the help of local partners, the federation is organizing two regional workshops in 2019 to share resources and receive input from coastal communities. Feedback from these workshops will be used to identify and evaluate coastal climate risks along with potential policy and management strategies at a coastwide summit with state leadership in June. Following the summit, the team will conduct follow-up consultation and analysis to evaluate the utility of potential strategies and prioritize recommendations for the final plan.
This initiative engages local communities in the conversation about local threats and reasonable potential solutions and will result in an official plan that communities can work from and use as a basis for applications for state and federal assistance. Having a good plan in place with local buy-in that identifies real, do-able solutions will make a real difference in the resilience of coastal communities.