Our summer internship program offers opportunities to learn valuable skills at a successful coastal nonprofit organization.
The North Carolina Coastal Federation is a member-supported nonprofit environmental organization committed to protecting and restoring the North Carolina coast. Through the Stanback Internship Program, the Coastal Federation provides several exciting opportunities for students to work with our established and successful organization. Working alongside dedicated professional staff, interns will engage in:
Coastal habitat protection and restoration
Environmental education
Community Collaboration
Interns will also learn about the inner workings of nonprofit management, including public relations, strategic planning, marketing, communications, fundraising, and nonprofit governance.
Be an integral part of our team.
Interns will spend 12 weeks of the summer working alongside staff in our headquarters office, located in Ocean, NC (near Newport). The exact timing of the internship is flexible, usually running from mid-May through the end of July or the first week of August. This hands-on program provides outdoor opportunities for habitat and water quality restoration. Whether it's planting a living shoreline, bagging oyster shells for habitat, or maintaining a rain garden to reduce polluted stormwater runoff, the mix of field and outreach-based opportunities provides a multitude of memorable experiences.
A key part of our internship includes guest presentations and site visits with local, state, and federal officials; private industry; other nonprofits and academia such as three local university marine labs and a National Oceanic and Atmospheric Administration facility.
Internship Objectives
Learn about important coastal environmental issues and the key priority goals of the Coastal Federation.
Experience the natural coast and understand the Coastal Federation's protection and restoration work by engaging in a variety of field projects and site visits.
Work alongside the Coastal Federation's Education Coordinator to educate community and student groups about coastal stewardship.
Learn key steps for managing and operating a nonprofit (membership and board development, use of volunteers, staffing, accounting, grant writing, and communications).
Collaborate on key coastal issues to help advance the work of the Coastal Federation by working with fellow interns on group assignments.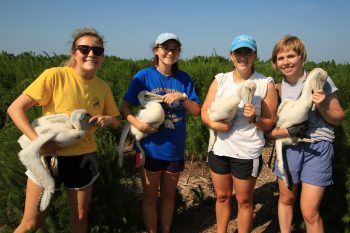 Learn More
The Federation is proud to have been chosen to participate in the Stanback Internship Program since its inception. We invite Duke graduate and undergraduate students with an interest in environmental protection, outreach, and restoration to apply.
The projects that interns work on change by the summer, but you can get an idea about what a day-by-day schedule looks like here.
Apply for the Coastal Policy and Restoration Internship
Each year the deadline to apply for this internship is February 28. Please send a cover letter and your resume to rachelb@nccoast.org.
Important Information
The Coastal Policy and Restoration Internship takes place in the Coastal Federation's Headquarters office in Ocean, North Carolina.
This internship is not a paid position through the Federation.
Meet Our Past Interns: