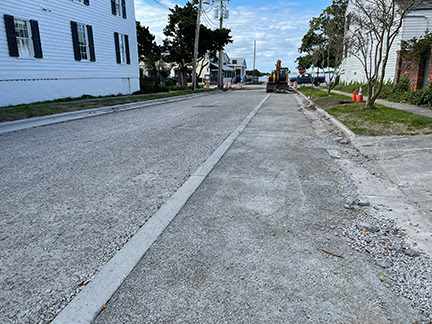 Ocean, N.C. – The North Carolina Land and Water Fund recently supported an innovative stormwater project that is transforming a typical paved street in the Town of Beaufort into a stormwater treatment device. The North Carolina Coastal Federation and Town utilized the grant funding to ensure a scheduled capital improvement project to upgrade pipes and infrastructure and repave portions of Orange Street included a 500-foot section of permeable paving. The end product will now help soak in rain instead of contributing to stormwater runoff.
Stormwater runoff from heavy rains typically flows down the hard surface of paved streets funneling pollutants to nearby waterways. Standard procedure is to resurface roads with conventional paving material, but this project instead incorporated permeable sections that allow water to soak into the ground.
The project is part of a communitywide commitment to implement the 2017 Beaufort Watershed Restoration Plan. It is a blueprint for reducing polluted runoff in Beaufort, and calls for reducing the overall volume of runoff being generated throughout the town.
"In Beaufort, we are committed to taking measures to clean-up our waterways. The successful boat ramp and Orange Street pervious surface projects have been a great partnership with Coastal Federation, and important parts of large-scale infrastructure improvements across our community. By improving these systems, we are greatly reducing the amount of toxins going into our waterways as we strive to set the standard as a North Carolina Clean Water Coastal Community," said Beaufort Mayor, Rett Newton.
Additional projects funded in part by the Land and Water Fund in the Town include the 2019 installation of permeable paving grids at the N.C. Wildlife Resources Commission's Boating Access Area in Beaufort. The commission partnered with the federation and town to replace the compacted gravel parking spaces with the pervious grids to allow rain to soak into the ground. The drive aisles were paved but most of the runoff flows into the permeable parking stalls, reducing the volume of polluted runoff reaching Taylors Creek.
"These projects demonstrate a balance between expense and water quality benefit. By directing impervious surface runoff to areas of permeable pavement, our partners capitalized on scheduled infrastructure repair to decrease total runoff," said Bree Charron, coastal specialist in the federation's central region.
The North Carolina Coastal Federation works with local governments, businesses and coastal communities to embrace nature-based stormwater strategies to reduce flooding, improve water quality and help balance economic development with natural resource management. To learn more about our work for clean water visit, https://www.nccoast.org/protect-the-coast/stormwater.