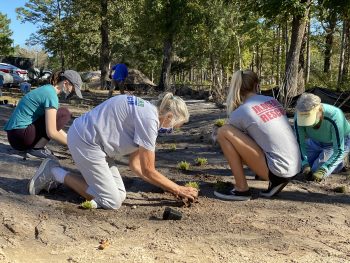 The hard surfaces of parking lots usually contribute to polluted stormwater runoff and flooding by directing it to storm drains or surface waters. However, a new project at UNC-Wilmington is reversing this course and reducing runoff
The North Carolina Coastal Federation partnered with engineering firm Coastal Stormwater Services, Inc., Flora Landscapes, UNC-Wilmington and the City of Wilmington's Heal Our Waterways program to design and build a rain garden on campus to absorb the rain before it has a chance to become polluted runoff.
"Rain gardens, like the one on UNCW's campus, are a great way to utilize the land to reduce runoff and create an attractive landscape feature," said Lauren Kolodij, deputy director with the federation.
Working with UNCW staff and students and the Heal Our Waterways Program, the shallow landscaped depression on Suite Services Loop was completed with native plants and will now help slow down, spread out and soak in the rain. About one million gallons of polluted runoff will be reduced on campus with this project annually.
"UNCW is the largest land owner in the Bradley Creek watershed. We are pleased to have this rain garden and other stormwater reduction projects on campus to not only reduce runoff but to be able to showcase these techniques as a learning tool," said Kat Pohlman, UNCW's chief sustainability officer.
"It was wonderful to see community members come together to help improve water quality in Bradley Creek and its tributaries. We're excited to see their hard work grow into a successful rain garden!" said Anna Reh-Gingerich, interim watershed coordinator with the City of Wilmington Heal Our Waterways Program.
Rain gardens work the way nature does to capture stormwater runoff, allowing it to soak into the ground. In addition to reducing the amount of runoff being generated from the UNCW campus, the site will also serve as a community living classroom. Funding for the garden was provided by the North Carolina Division of Water Resources' EPA Section 319 Water Quality Program.