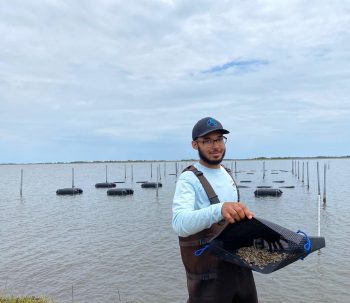 The North Carolina Coastal Federation would like to congratulate the accomplishments of Rahdiaz "Ray" Delvillar, for completing his second AmeriCorps quarter-time term. In partnership with the federation and River City Community Development Corporation, during the past year Ray contributed over 460 volunteer service hours. AmeriCorps is a network of national service programs, made up of three primary programs that each take a different approach to improving lives and fostering civic engagement. Members commit their time to address critical community needs while also getting a chance to learn new skills and build networking opportunities. By successfully completing 450 hours of service within one year, members may earn an Education Award to use for college or trade school.
To accomplish this effort, Ray spent most of his time volunteering with the Coastal Federation, assisting environmental service activities, though he also shared his time with several community partners including Island Farm Historic Site in Manteo. All the while, Ray also completed his Associate's Degree at the College of the Albemarle and worked full time hours at Fresh Catch Seafood. (If anyone need tips on maximizing their weekly time commitments – just ask Ray!) Upon completing the necessary amount of hours to complete his service term Ray shared, "My proudest accomplishment is becoming part of something bigger than myself and finding something I am passionate about in the process."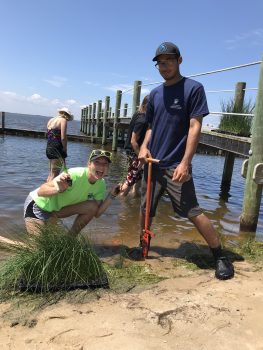 During his volunteer term, Ray most enjoyed planting marsh grasses as part of a living shoreline restoration project in Kitty Hawk. Throughout his volunteer contributions, Ray was also able to make positive impacts on the people and places around him, that made this experience meaningful. One of these memorable encounters was with a young group of students, who after learning about the important features of the estuary, were overwhelmed with glee and addressed their leader as "Uncle Ray."
For those that may be considering getting involved with AmeriCorps, Ray's advice is, "Use this opportunity to improve yourself and the environment around you. Make that your end goal. My AmeriCorps term has helped me grow, by enhancing my leadership skills and by giving me a chance to be involved with a diversity of people."
Ray proved his dedication to the environment and maintained an unwavering work ethic along the way. The federation is thankful to keep him involved as a part-time staff member to operate the federation's oyster lease, while he takes the next steps in pursuing a Bachelor's Degree. We're eager to see what challenges Ray conquers next! Congratulations and many thanks to dedicated volunteers like Ray Delvillar, who serve as a pillar to working for a healthy coast.