Can you imagine spending your spring break doing service projects instead of hitting the beach all day? Well, earlier this month, students from Roanoke College and East Carolina University (ECU) joined staff at our northeast and central offices to do just that. Their willingness to spend a week volunteering with us on projects to protect and restore the coast reflects their strong character and we are extremely grateful for their hard work. We were fortunate in that these groups were able to join us before the coronavirus outbreak travel restrictions began.
East Carolina University Spring Break Group: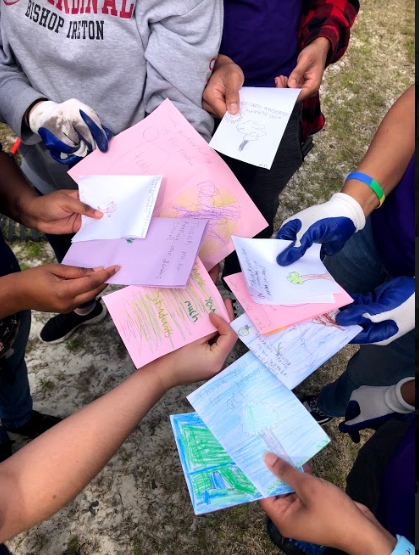 Students from East Carolina University (ECU) worked with staff at our central office. The group started off the week with a shoreline cleanup along the Bogue Sound in Ocean. There, they worked together with a group of students from the Cooperative Baptist Student Fellowship to remove over 1300 pounds of litter and wooden debris from the shore, which had collected there after recent hurricanes. Among the group from the Cooperative Baptist Student Fellowship were students from University of North Carolina- Chapel Hill, Duke University, Campbell University, Meredith College, and North Carolina State University.
Additionally, the ECU students built a living shoreline in Swansboro, and did a cleanup by a stormwater wetland in Cape Carteret. A highlight for the group was working with students both at Newport Middle School, where they helped lead a lesson on marine debris, and at Queens Creek Elementary where they cleaned a school rain garden. During the workday at Queens Creek Elementary, one second grade class saw the students working from their window and quickly made several sweet "thank-you" cards for the college students to take home with them. They will also be able to remember their trip by this video produced by WNCT that covered the students' visit.
"We are very thankful for our partnerships with Alternative Spring Break groups. Some schools, such as ECU, have been coming for over 10 years. The students have a great energy and allow us to complete projects in a week that would otherwise take us months to do on our own," said Rachel Bisesi, the federation's central office coastal education coordinator.
Roanoke College Spring Break Group: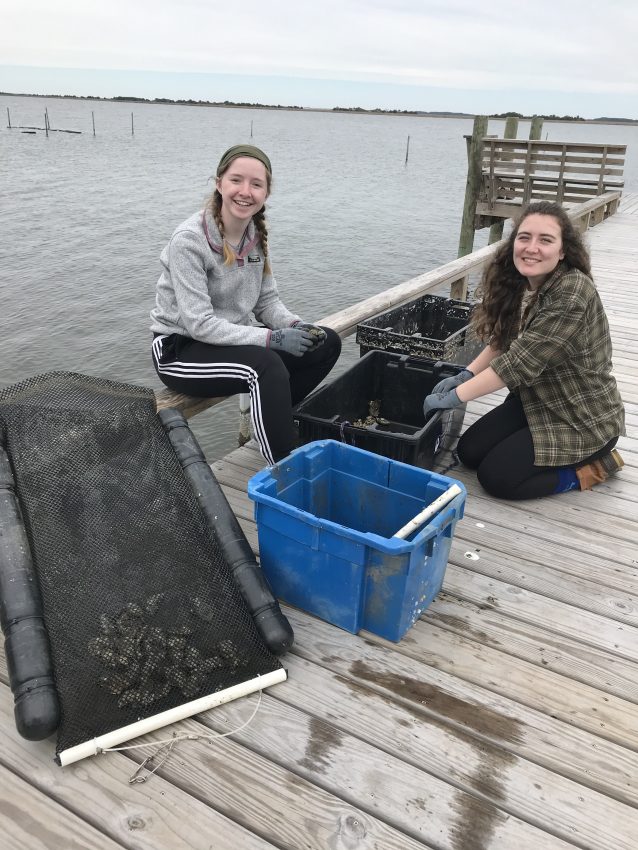 Seven students from Roanoke College also spent their spring break helping remove debris from our adopted highway in Wanchese while learning about the harmful impacts of this debris. They also helped northeast federation staff with oyster projects, gaining an appreciation for their ability to filter water. Part of their time was spent collecting loose oyster shell from a local restaurant and transporting these to the oyster shell recycling area where they will be used in future restoration projects. The dedicated students also helped conduct maintenance on the oyster lease pulling bags filled with live oysters and removing any that were dead, repaired some gear, and redistributed the oysters to even out the weight of the bags.
The students were additionally able to spend a couple days helping out the community, clearing vegetation overgrowth at Wright Brothers National Memorial and conducting volunteer activities at Island Farm in Manteo.
"I'm grateful that these students spent their Spring break volunteering with us. It's so generous that they each gave their time and energy, all the while learning how they were making a difference to protect our coast. They worked hard on a variety of projects and had fun while doing so – making the long days of service work enjoyable for everyone!" said Sara Hallas, the federation's northeast coastal education coordinator from Wanchese.