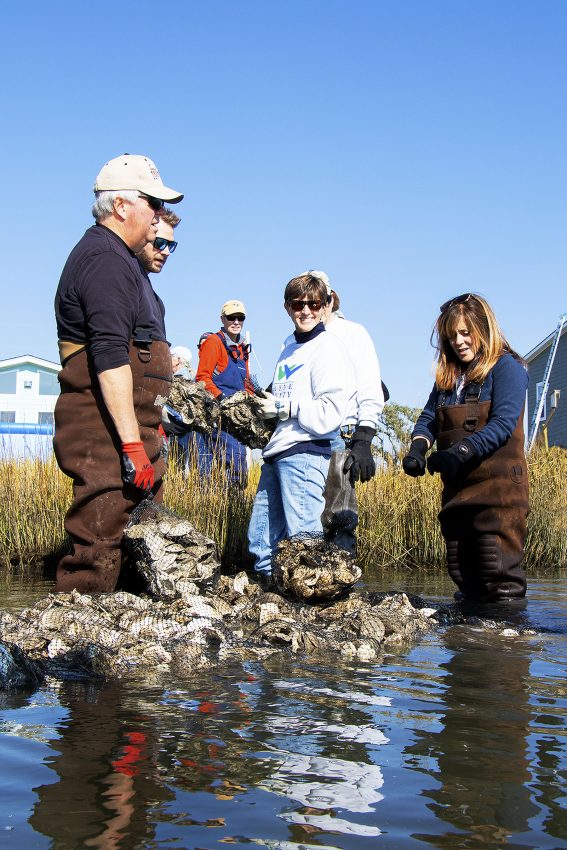 Recently, the North Carolina Coastal Federation, community volunteers and students from Croatan High School worked together to build a living shoreline along Bogue Sound. The group hauled and stacked 1,125 bags of recycled oyster shells to create the structure's foundation. Living shorelines are an environmentally friendly way to reduce sound side erosion. They provide habitat for fish and wildlife and help filter water, which is good for the environment. Living shorelines also perform better during hurricanes when compared to bulkheads or other hardened structures, which is great news for coastal property owners. 
This Bogue Sound living shoreline was built at the mouth of Broad Creek, an area that experiences erosion from boat wakes and storm surge. Two of the neighboring properties already have living shorelines, so when the federation was approached by a third property owner, they knew it was a good opportunity that shouldn't be missed.   
"This often happens with private properties," said Rachel Bisesi, coastal education coordinator at the federation's central office. "One person will build a living shoreline and then the neighbors will want one as well." 
The federation installed the neighboring shorelines in 2017. They are now established reef structures, which support oyster growth and effectively reduce erosion. When recycled shells are placed back in the estuary to help build living shorelines, they provide a hard surface for new baby oysters, called spat, to latch on to and begin to form reefs. As the baby oysters grow, they clean and filter surrounding waters while providing valuable food and habitat for other aquatic animals. Living shorelines are becoming more and more popular as a shoreline management strategy because of their multiple benefits.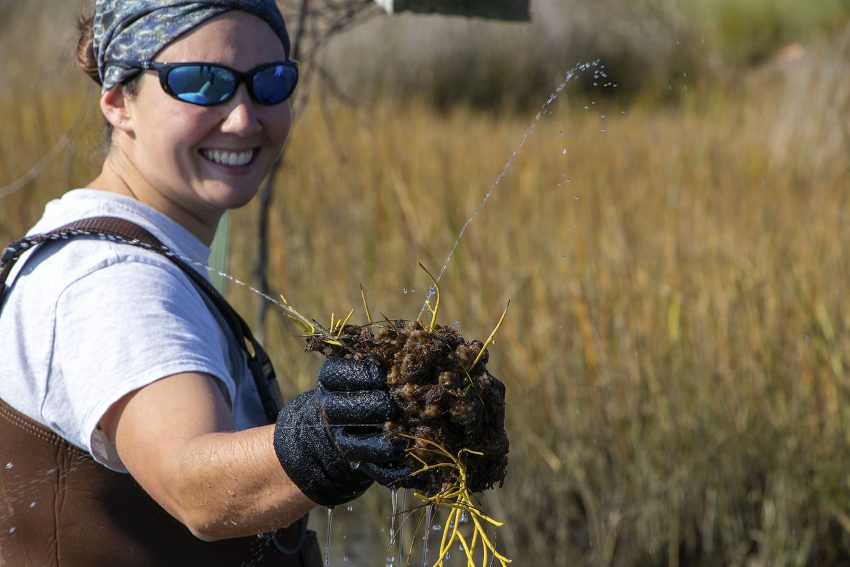 "It's amazing that something so relatively simple can have multiple benefits and a lasting impact on the health and economy of our coast." said Dr. Lexia Weaver, coastal scientist and lead for the federation's living shoreline projects. For the volunteers, building the living shoreline wasn't just about their environmental and economic benefits; it was about the fun and camaraderie that comes with working together to make it happen. "It was just plain fun," noted one of the volunteers, a sentiment that was underscored by shouts of surprise as a staff member discovered a lively sea squirt.
The federation would like to extend a special thank you to the Southeast Aquatic Resources Partnership (SARP), which funded this project to encourage private property owners to build living shorelines. As always, thank you to our community volunteers who make projects like these possible.
Visit our website to learn more about our living shorelines and volunteer opportunities.