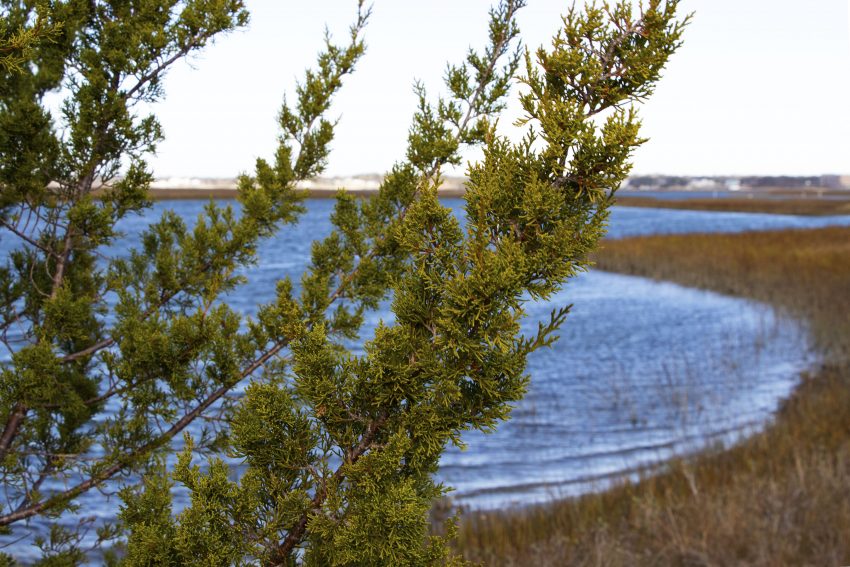 Looking back on 2019, the federation is proud of our collaborative impact on coastal water quality, habitat protection and restoration. Here is a snapshot of some of our accomplishments in the past year:
Protecting Coastal Water Quality
This year, the federation partnered with the Town of Beaufort, N.C. Wildlife Resources Commission, City of Wilmington, New Hanover County, Town of Swansboro, UNC-Wilmington and Soil and Water Conservation Districts on several Low Impact Development (LID) projects to reduce stormwater. LID reduces runoff by redirecting water and allowing it infiltrate, or soak into the ground, before it can become polluted stormwater. Tools like rain gardens, permeable pavers and infiltration chambers have demonstrated impressive infiltration capabilities, reducing harmful runoff by over 7.7 million gallons. The federation also completed restoration of 679 acres of wetlands in Halifax County. The restored wetlands now soak up about 12 million gallons of rain for a five inch rainfall.
Local governments were deeply engaged in these hands-on stormwater projects and worked with members from the community and academia as well as state, federal and local agencies to make them happen.
"That is exactly what we want to happen with our collaborative stormwater projects," said Lauren Kolodij, deputy director of the federation. "Coastal communities learning how to cost effectively reduce runoff so they can replicate LID techniques in new projects and future restoration efforts is what makes the real impact."
Living Shorelines
We are also proud to report that 2019 was a great year for living shorelines. Working with over 30 partners including local businesses, college groups, schools, community volunteers and nonprofit friends, the federation designed and installed 2,379 feet of living shorelines at 16 different sound-side properties on both public and private land at the coast. As part of these efforts, we also planted over 21,000 plugs of salt marsh grass to help these new living shoreline sites grow and reduce marsh erosion.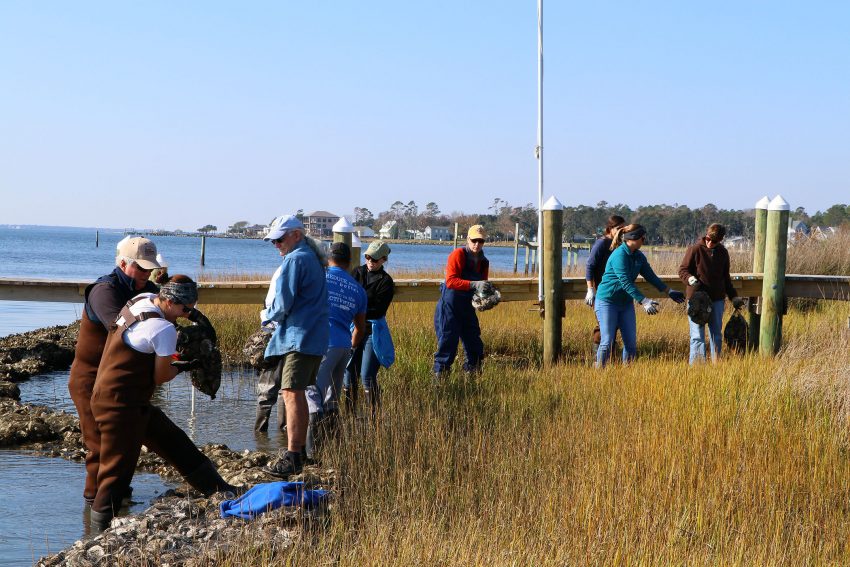 The federation's collaborative efforts have made living shorelines widely accepted as the best environmental alternative for shoreline stabilization and many more shoreline projects like these are already lined up for 2020.
State and federal agencies confirmed their support for living shorelines by adopting streamlined permitting programs within the U.S. Army Corps of Engineers and the N.C. Division of Coastal Management. The permits are significantly simpler and essentially eliminate regulatory barriers to building living shorelines. Throughout the course of the year, the federation and partners also worked to increase consumer demand for living shorelines. As a result, many were permitted in 2019 and that number is expected to increase in 2020.
Oyster Reef Restoration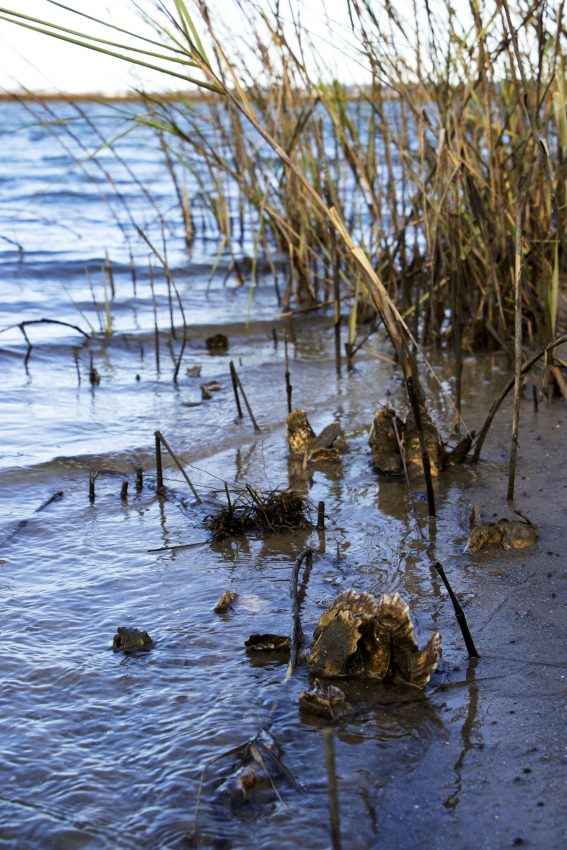 2019 also marked significant progress in oyster reef restoration efforts. Throughout the year, the federation and N.C. Division of Marine Fisheries added nearly 11 acres of oyster reef to the Swan Island Oyster Sanctuary in Pamlico Sound, which serves as a nursery to help repopulate nearby reefs. A total of 40 acres of reef have been created at Swan Island as part of the Senator Jean Preston Oyster Sanctuary Network.
To fill the void left by state budget cuts, the federation also laid the groundwork to reinvigorate oyster shell recycling in the state. Oyster shell is a valuable resource that is used by the federation, N.C. Division of Marine Fisheries and others to build new oyster reefs. In 2019 the federation worked with volunteers to recycle nearly 1,500 bushels of shell and will be ramping up the volunteer program in 2020.
"I am thrilled with our partnerships and the cumulative impact of everyone's efforts to build back our oyster resources in North Carolina," said Erin Fleckenstein, coastal scientist with the federation's Wanchese office.
Keeping our Coast Clean
The federation also worked tirelessly with various partners this year to remove marine debris from the coast, leading volunteer shoreline cleanups that collected over 18.5 thousand pounds of trash, equivalent in weight to four and a half average U.S. cars. Clean up efforts extended beyond the shore as well with the federation's crab pot removal program, the Lost Fishing Gear Recovery Project. Part of an annual statewide marine debris removal effort, this year's program drew the largest participation to date and resulted in the removal of 3,112 crab pots from North Carolina's coastal waters in early 2019.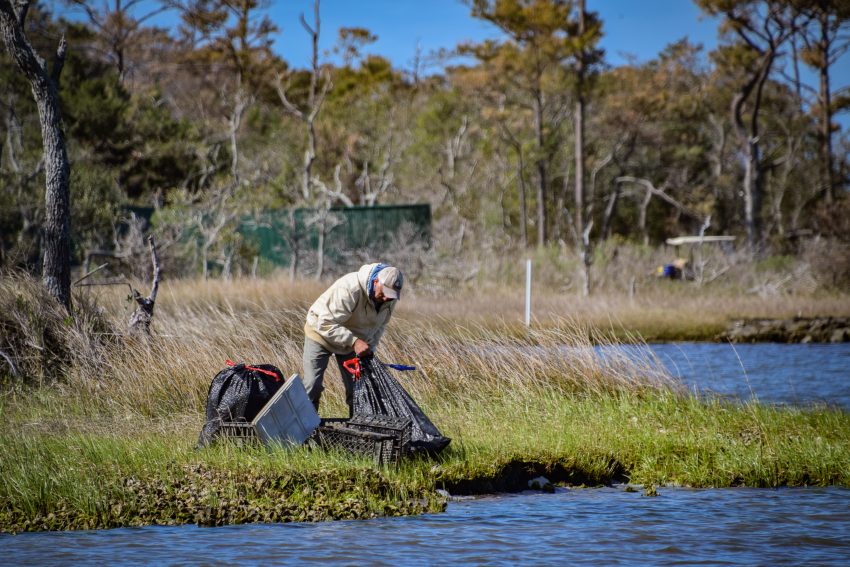 Additionally, the federation completed its biggest debris removal effort this year with the removal of 200.3 tons of marine debris from over 42 miles of coastline. While much of this was left by Hurricane Florence, it is evident that dedicated funding is needed for annual coastal cleanups to keep the coast free of debris regardless of additional destruction from storms. In the new year, the federation and partners will unveil the N.C. Marine Debris Action Plan that showcases a series of strategies to remove debris and prevent future debris buildup along the coast.
Effective Coastal Management
This year, we worked with many partners to keep oil and gas drilling away from our coast.  We also opposed rule changes that would weaken the authority of the Clean Water Act. If passed, these changes would narrow the definition of "wetlands" and thereby reduce the amount of protected land area by 50-70%.
In response to Governor Cooper's Executive Order #80, the federation organized the N.C. Coastal Resilience Summit, which brought together key experts to discuss how North Carolina should plan for resiliency. The federation also submitted detailed strategies for inclusion in the draft State Resiliency Plan. In addition, the federation hosted a public forum, which brought together over 200 researchers and residents from across the state to learn about current research and policy for reducing emerging contaminants like Gen X.
From these accomplishments, it is clear that people who are passionate about the coast and commit to protecting its future help make the federation's mission of Working Together for a Healthy Coast a reality.