Worn Wear is Patagonia's program that keeps gear in action longer.  In fact, the program claims your gear will be even better than new after repairs are made by expert technicians. The first stop on the 2019 Worn Wear Tour occurred at REAL Watersports in Waves, NC from May 31 – June 2.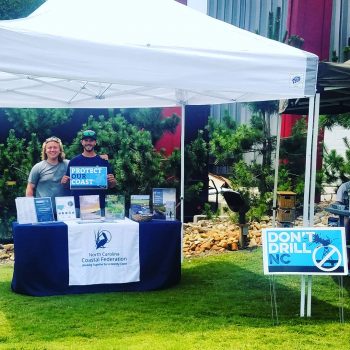 The Worn Wear crew set up on the lawn from 12-5 p.m. each day and offered to repair all brands of clothing and wetsuits for free! This effort extends the life of damaged clothing and wetsuits that are otherwise perfectly functional, helping to reduce the related carbon, water and waste footprints.
The North Carolina Coastal Federation was invited to host a table alongside the Worn Wear crew throughout the weekend to showcase the efforts of local coastal stewardship. Seth Williams, Surf Product Associate with Patagonia, generously offered to donate the proceeds from a raffle for a Yulex wetsuit to the federation. The Patagonia Yulex wetsuits are derived from renewable hevea trees that can produce rubber for over 30 years, replacing conventional nonrenewable wetsuit material.