Real estate professionals, homeowner associations and property owners recently convened to learn the economic and environmental benefits of applying low impact development (LID) techniques when developing coastal property. The two-day workshop, hosted by the North Carolina Coastal Reserve Coastal Training Program, was held at the Coastal Studies Institute in Wanchese.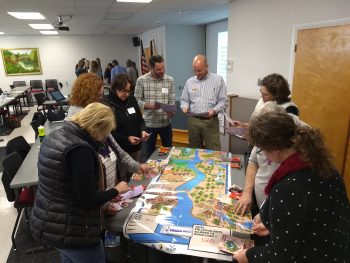 The Coastal Training Program, North Carolina Coastal Federation, North Carolina Cooperative Extension, Dare Soil and Water Conservation District and the Town of Nags Head presented on the impacts of land use on water quality and how LID can be an effective approach for developing land while maintaining coastal hydrology. In addition, participants learned about LID maintenance strategies and funding opportunities.
Conventional stormwater management practices can negatively impact water quality by generating stormwater runoff. LID can reduce the amount of untreated runoff entering our coastal waters because the approach mimics the land's natural hydrology, allowing runoff to soak into the ground instead of flowing over the land and discharging pollution into surface waters.
One of the federation's primary goals is to achieve clean coastal waters that support fishing and swimming. Applying LID on residential and commercial properties can help work toward that goal.
During the program, a representative from Dare Soil and Water Conservation District, shared information about LID cost share programs like CCAP. CCAP, or the Community Conservation Assistance Program, is a voluntary, incentive-based program to encourage all landowners to incorporate stormwater best management practices into their properties.
In addition to general presentations on LID, some local LID strategies were showcased at the workshop including efforts by the Town of Nags Head to develop new ordinances and retrofit projects at Dowdy Park.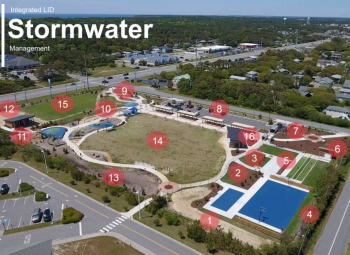 Dowdy Park is a former amusement park that has been converted into a public park. There are total of 16 LID practices incorporated into the site along with open space that helps absorb stormwater runoff in the community.
All of the workshop presentations and additional resources can be viewed on the North Carolina Coastal Training Program webpage here.