The North Carolina Coastal Federation's northeast office has been busy leading outdoor educational experiences with sixth grade students from First Flight Middle School. With support from the Outer Banks Community Foundation, nearly 250 students and their teachers embarked on a full day field trip to Jockey's Ridge State Park earlier this month. The federation's staff and volunteers planned a series of hands-on educational activities that corresponded to curriculum standards in a variety of subjects. The students learned about living shorelines through a demonstration that compared different ways to control erosion from bulkheads to oyster reefs. The students learned about human impact through a marine debris activity that helped them understand that many everyday items, like plastic bottles, take hundreds of years to decompose. To replicate animals' camouflage adaptations, students were challenged on locating items hidden in the brush and also got to view a variety of animal artifacts (furs, skulls, bones) of some local wildlife.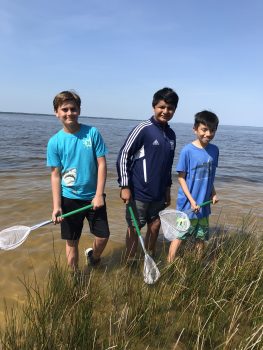 Jason Brown, Park Ranger at Jockey's Ridge, created a new wildlife observation activity for the field trip this year that involved approximating height, length and size of an animal by using objects set up in the parking lot.
The middle school students spent part of their day exploring the federation's living shoreline project on site along the Roanoke Sound. On the shoreline, they contributed to continued marsh restoration by helping plant blanket flower, salt meadow hay, seashore mallow and salt grass. Kathy Mitchell, recently retired horticulturist from the North Carolina Aquarium on Roanoke Island assisted with this activity, along with federation staff and volunteers.
During the field trip, time was spent exploring the aquatic components of the shoreline by catching and releasing fish, crabs, shrimp and other native species they encountered wading through the water with small nets. Rhana Paris, Outreach Coordinator with the N.C. Aquarium on Roanoke Island, led the students to take a closer look at the water quality parameters necessary to support a healthy ecosystem by measuring pH, temperature, salinity, dissolved oxygen as well as weather and other abiotic factors.
"It was a great field trip and I enjoyed seeing the students participate in environmental stewardship while also learning so much throughout the day," shared Leslie Wiles, sixth grade science teacher at First Flight Middle School.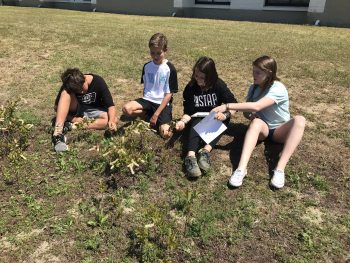 "I am so thankful for all the volunteers and staff from the federation, Jockey's Ridge and the N.C. Aquarium on Roanoke Island that made this trip possible."
A few weeks later, the federation's northeast education coordinator, Sara Hallas, spent two days at First Flight Middle School, leading these same students on an outdoor exploration through the school's rain garden.
The students compared observations they made from this past fall in the rain garden and observed that many of the species of the plants had changed with the seasons. Notably, the Bald Cypress was greener and fuller, the beautyberries were missing their berries and several of the perennials, like the sunflowers and blue mistflowers, were growing with green leaves, but the flowers were not in bloom.
After making these comparisons, the students once again participated in environmental stewardship by helping pick up trash, pull weeds and spread mulch in the rain garden. Green Incorporated Lawn Care and Landscaping donated time and supplies to deliver a trailer of mulch to the school that the students helped distribute.