For the past several months, the North Carolina Coastal Federation and the Duke University Marine Lab have been working with the Boys and Girls Club of the Coastal Plain – Beaufort Teen Unit to educate them on the importance of keeping our coast clean.
Each week, a representative from the federation or the Duke Marine Lab would visit the students and work on fun, interactive projects that demonstrated how marine debris and stormwater runoff can damage marine animals and water quality.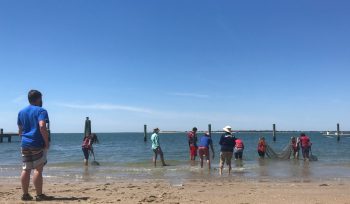 One of the activities involved creating public service announcements (PSA) about how the public can work to keep our coast debris free. Leading up to the creation of a video PSA, the students at the Boys and Girls Club created them on paper and were sure to include a fact or statistic about how marine debris impacts our environment.
"We really enjoyed working with the students to create the PSA. During the lessons over the past few months, the students participated in local cleanups and worked together to develop a script for their PSA," said Rachel Bisesi, federation coastal education coordinator.
On Tuesday, April 23, the federation and six students from the Boys and Girls Club as well as their team leaders, Ashley Elps and Ben Ansel, took a field trip to Cape Lookout National Seashore. For several of these students, this was their first time visiting the lighthouse and seashore.
After a short ferry ride to the barrier island, the students and federation staff quickly got to work filming the PSA. The script was written by both the students, Rachel Bisesi and Sarah Bodin, federation coastal specialist. The final video was directed, filmed and edited by federation Communication Specialists, Logan Prochaska and Samantha Ruark. Donna Snead, federation volunteer, board member and central advisory board member, also attended the field trip.
The students were eager to encourage the PSA audience to recycle, join local cleanups and understand the different impacts that marine debris has on business, wildlife and coastal habitats.
After filming the PSA, the group spent time on both the oceanside and soundside of the island. On the oceanside, they collected shells, observed various wildlife and had a show-and-tell where they shared the items they found on the beach. On the soundside, they visited the lighthouse museum and spent the rest of the afternoon catching small marine creatures with simple nets. Some of the creatures they caught, observed and then released included pin fish, flounder, hermit crabs, snails and crabs. They ended the lesson by discussing how important coastal habitats and clean water are to people and marine life.
"We had a great time visiting Cape Lookout and filming their PSA. The new video is also a fun way to share with others a few simple solutions for reducing marine debris in our community," said Bisesi.
The Boys and Girls Club PSA can be viewed here.
Check out some photos from the field trip: