On Saturday, July 28, the 2018 Pelican Award recipients were honored at the Crystal Coast Civic Center in Morehead City for their outstanding contributions to protecting the North Carolina coast. 2018 marked the 10th year the annual awards have been presented by the North Carolina Coastal Federation.
Joe Ramus, president of the federation's board of directors welcomed a sold-out crowd of 500 to the awards ceremony stating that the "award winners have demonstrated exemplary commitment and undertaken meaningful actions to help the federation reach our goal of a healthy and productive coast."
Federation staff and executive director, Todd Miller, presented the evening's 10 awards including eight regional awards and two coastwide awards.
The awards program was followed by a Taste of the Coast celebration that featured fresh oysters from eight North Carolina oyster growers, seafood and treats from five local seafood restaurants, a silent auction and live music.
The federation is grateful to everyone who came out to celebrate the coast and Pelican Award winners. "We were really thrilled to have such a great crowd," said Todd Miller, federation executive director.  "We had a lot of folks who have been members of the federation for over 20 years and some people who became new members at the event."
A special thank you to the event sponsors including lead sponsor Wells Fargo for their support.
Below are brief bios about each of the recipients that appear in the Summer 2018 edition of Our Coast.
Dr. Detlef Knappe
For Expert Research and Enduring Commitment to Clean and Safe Drinking Water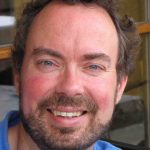 Nearly five years ago, while conducting research on bromide sources in the Cape Fear River watershed, N.C. State University's Dr. Detlef Knappe and his team of researchers detected high concentrations of a number of unexpected industrial chemicals in drinking water, including 1,4-dioxane and GenX, compounds generated from the textiles, wood, non-stick coating, plastics and other manufacturing industries. Knappe's research group, together with experts from the Environmental Protection Agency (EPA), published these findings in Environmental Science and Technology Letters in November 2016. They found GenX concentrations of 631 parts-per-trillion in Wilmington's drinking water — the EPA's health advisory standard is 70 ppt for similar compounds.
In 2016, experts from the EPA began alerting state and federal agencies about the research findings, but their concerns remained relatively unanswered until the Wilmington StarNews published the findings in June 2017. This led to the ongoing investigations into the presence of industrial contaminants found in the drinking water of more than 1 million people in southeastern North Carolina. Dr. Knappe and his research team remain at the epicenter of an expanding and critical human health issue that continues to attract significant media and political attention. His professional diligence and hard work to protect the health of the millions who drink water from various surface and groundwater sources throughout North Carolina have been critical to ongoing efforts to ensure all people have clean and safe drinking water.
Tom Earnhardt
For Dedicated Leadership and Commitment to Public Awareness and Education about the North Carolina Coast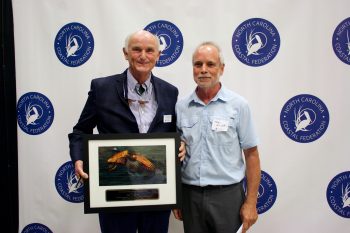 Tom Earnhardt has had a lifelong connection to the North Carolina coast and its people. Over the last 15 years, he has highlighted his dedication to North Carolina's environment by writing and producing more than 80 episodes of the statewide UNC-TV natural resource series, "Exploring North Carolina."
Several episodes have featured the work of the Coastal Federation and its partners, including the construction of the Swan Island Oyster Sanctuary and the organization's work to improve water quality on the coast. Tom's dedication to the environment extends throughout the state, as he serves on numerous conservation boards, including Trout Unlimited, The Nature Conservancy in North Carolina and Audubon North Carolina. Tom has also served as president of the North Carolina Botanical Garden Foundation and the Friends of the North Carolina Museum of Natural Sciences. His love of North Carolina's amazing natural resources has shined through in his work and helped others see how they can make a difference in protecting the state's environment. His incredible footage of the North Carolina coast has certainly helped the Coastal Federation convey to others just how spectacular our coast is.
Tom & Vickie Byers
For Outstanding volunteer Contributions to Our Coast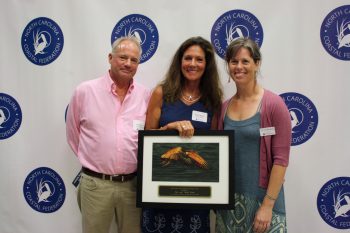 Tom and Vickie live on a quiet cul-de-sac surrounded by the native marsh of the Kitty Hawk Woods Coastal Reserve. Appreciating that they live in such a beautiful and natural area, the Byers do their part to protect it. Tom and Vickie have volunteered many hours with the Coastal Federation, including representing us at community events. The Byers have transformed their yard into a Smart Yard by setting up their own rainwater harvesting system to reduce stormwater runoff. Vickie is a master gardener and enjoys spending time outside planting and tending to their landscape. However, Tom noticed that a few rain barrels weren't doing enough to reduce runoff, so they now use multiple cisterns in addition to rain barrels to harvest rainwater and collect drips from condensation lines. The cistern collection system is tied into their irrigation system; when irrigating their landscape, rainwater is used before well or city water. The Byers also own vacant land next door that they have turned into a natural butterfly habitat. They have done exemplary work in their community and in their own yard to help protect the coast. We are so grateful for their contributions.
Lynne Foster
For Enthusiastic and Inspiring Leadership and Commitment to the North Carolina Coast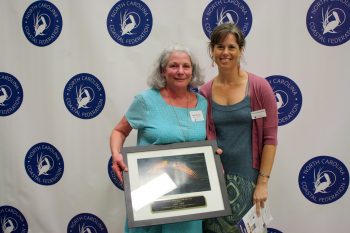 To know Lynne is to know a thoughtful, supportive, generous and caring woman. Lynne is community minded and serves as an anchor to Hatteras' heritage while bridging it into its future. After Hurricane Irene devastated Hatteras Village in 2003, Lynne spearheaded and organized a "Day at the Docks" to celebrate the spirit of Hatteras. This annual event recognizes the community's traditional commercial and recreational fishing heritage and celebrates the strength and resiliency of the island. In addition to her coastal heritage efforts, Lynne worked diligently to secure community support for a living shoreline project that helps to protect Hatteras Harbor. This project restored marsh along 300 feet of shoreline near Durant's Point and buffers the shoreline from erosion at the narrow spit of land protecting Hatteras Harbor. Lynne's work didn't stop at Durant's Point — she has also been instrumental in rallying community support for the Coastal Federation's annual Hatteras Island Oyster Roast by securing volunteers and marketing the event. Lynne is a natural leader who has helped to create meaningful events and projects that remind everyone why they should care about our coastal heritage and environment.
East Carolina University Center for Leadership and Civic Engagement Alternative Break Experiences Program
For Fostering Successful Partnerships that Protect and Restore the Coast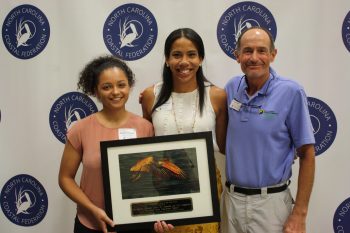 Each year, college students from East Carolina University choose to spend their spring break week serving others through the school's Alternative Break Experiences program. Instead of lounging by the pool or touring the Caribbean, groups of seven to 10 students per season have traveled to work with the Coastal Federation's Ocean office on coastal habitat restoration and education projects. Throughout this nine-year partnership, 91 students have performed service projects with the Coastal Federation, contributing a total of 1,525.5 hours in volunteer time. They have helped with shoreline cleanups, office and trail upkeep, salt marsh grass and tree plantings, recycled oyster shell bagging workdays and oyster reef construction. They have also helped us educate youth about the value of our coastal environment and helped maintain our school rain gardens. True to its mission of making lasting social change in our local, regional and global community, the Alternative Break Experiences program has done incredible work in this coastal region. We are honored to recognize the Alternative Break Experiences program for its dedicated and hardworking students who are eager to learn more about the coast and ways they can be good coastal stewards.
Carteret County Chamber of Commerce Leadership Carteret Program
For Outstanding Business and Community Leadership and Collaboration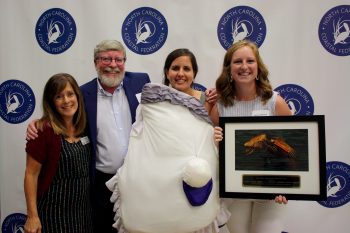 Leadership Carteret is an annual program that brings together some of Carteret County's top decision-makers and business leaders and immerses them in the places, people and issues that characterize the county. During the 10-week program, members visit local businesses and organizations to learn about them and their impact on the county. Since the early 2000s, they have made an annual visit to the Coastal Federation's Ocean office to learn more about our work and coastal environmental issues, as well as to shuck and enjoy a few local oysters. In 2017 and 2018, members began volunteering with oyster restoration projects. Volunteers assembled and deployed bags of recycled oyster shells to build living shorelines. In the process, they learned about the importance of oysters and how living shorelines are an environmentally friendly alternative to bulkheads and seawalls. Leadership Carteret promotes networking opportunities among county leaders and demonstrates how members of a community can work together for a healthy coast. Because of our long-term relationship, more people in the county understand the economic and environmental importance of our coast.
Tom Turner
For Exceptional Volunteer Contributions to Our Coast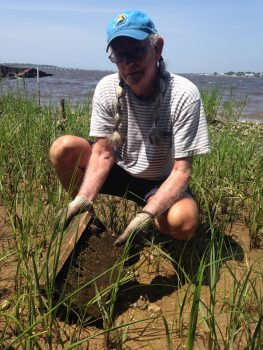 Tom Turner is an extraordinarily dedicated volunteer who has spent over 280 hours assisting the Coastal Federation with habitat restoration projects. Throughout his 10 years of volunteering, Tom has helped in all areas of coastal restoration. His contributions include planting thousands of native plants and salt marsh grasses, building many oyster reefs and assisting with numerous shoreline cleanups. Tom gladly travels to the coast to volunteer from his home in Ayden, which is nearly an hour-and- thirty-minute drive each way. His long-term commitment certainly stands out, and his imprint can be seen in restoration projects all along the Crystal Coast, including at Jones Island, Trinity Center and the North River Wetlands Preserve. Tom is easygoing and has a great sense of humor and work ethic. The Coastal Federation is truly grateful and appreciative for the time Tom has contributed to protect and restore our coast, and we could not do our work without great volunteers like him.
Wrightsville Beach Brewery 
For Exceptional Business Engagement, Promotion and Support for North Carolina's Coast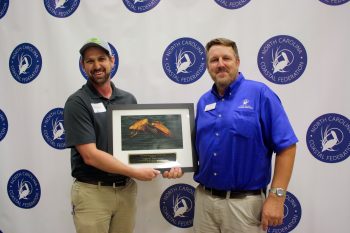 Jud Watkins and his dad, Bruce, spent a lot of time together "knocking" bushels of oysters from their favorite hidden spots on the coast. This and other fond memories of his father and grandfather led Jud, his mother, Pam, and wife, Amber, to begin pairing their love of oysters and North Carolina seafood with a locally brewed beer. In 2017, they established their own local brewery and seafood establishment, the Wrightsville Beach Brewery.
A connection to the coast is apparent in the brewery. Jud and his family worked with designers to save the beautiful live oak trees on the property and turn the trees that had to be taken down into lumber for the brewery. They incorporated native plants and stormwater reduction measures into the landscape and the building. The Wrightsville Beach Brewery also partners with 11 local nonprofits to donate proceeds from its rotating "Beer of the Month" program. In December they give 11 percent of all beer proceeds to support all 11 of their partners. The Oysterman's Stout has benefited the Coastal Federation every March, and Wrightsville Beach Brewery has been a great partner in helping us promote our mission and programs.
Anne Terry
For Remarkable Volunteer Contributions to Our Coast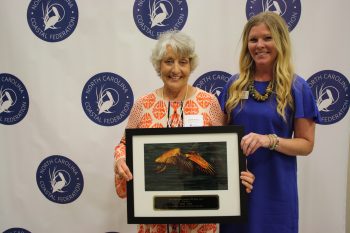 Anne Terry is a dedicated environmental steward who is committed to giving back to her community. Anne became a very active Coastal Federation volunteer a few years ago after learning about our work and programs. Anne is a volunteer extraordinaire and not only volunteers with us but also with Airlie Gardens, Friends of Pleasure Island State Parks, Cape Fear River Watch and Ocean Friendly Establishments. One of the original members of the Coastal Federation's Coastal Ambassador program, Anne is enthusiastic and energetic, strengthening the camaraderie of volunteers and encouraging new participants to return and get more involved. When she is not volunteering, Anne enjoys spending time with her husband of 49 years, her two grandchildren and two cats. Her enthusiasm for any project — whether it's a shoreline cleanup or helping out at outreach events — is an inspiration to our staff.
Town of Holden Beach, Dunescape Property Owners' Association and the Holden Beach Property Owners Association
For Outstanding Leadership and Dedication to Keep Our Coast Accessible and Public
Flanked by the beautiful Lockwoods Folly Inlet, the eastern end of Holden Beach was threatened to be forever changed by an unnecessary and expensive engineered structure. But on April 17, 2018, the Holden Beach Board of Commissioners unanimously voted to permanently revoke the town's permit application for a terminal groin with the U.S. Army Corps of Engineers. This historic move would not have been possible without the diligent evaluation of potential impacts by dedicated residents of the Dunescape Property Owners' Association and the Holden Beach Property Owners Association — Rhonda and Tom Dixon, Tom and Vicki Myers, Jay and Denise Holden, John and Margaret Witten, Rich Weigand, Lou Coutajar and Skip Klapheke. These and other Holden Beach residents tirelessly fought to bring to light the detrimental effects the terminal groin — a rock, concrete, stone or metal structure built at an inlet, perpendicular to the coast — would have had on the island's natural habitat and shoreline. Their forethought and action also positioned the town to save a lot of money for a project that likely would not work. The residents of Holden Beach persevered in their opposition and are true pioneers in showing how to exercise sound coastal management decision- making and recognizing that expensive hardened structures along our beaches are not the answer to erosion.