Last week, the Wanchese office joined Jennette's Pier for a week-long summer camp for teenagers called Green Teens. The week was filled with coastal explorations and allowed the teens to focus on service and volunteering.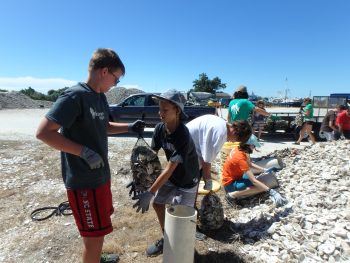 The seven campers helped the North Carolina Coastal Federation make 150 oyster bags that they then placed on the shoreline at the Wanchese office. The teens also helped plant around 800 marsh grass plugs on the living shoreline at Jockey's Ridge State Park. This allowed students to understand the importance of living shorelines. Living shorelines contribute to the natural erosion control by reducing the impact of waves and creating a natural habitat for marine life.
The group also did a beach clean-up around Jennette's Pier and participated in various activities that taught them about the difficulties of managing marine debris, stormwater runoff and other sources of water pollution. During their clean-up, they were able to learn about how long it takes many common items like cigarette butts and bottle caps to decompose.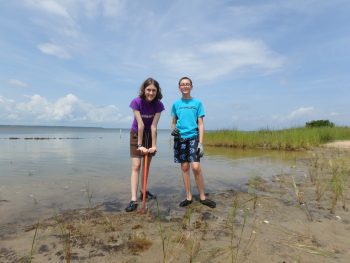 The group also helped to give back to the community throughout the week by helping with trail maintenance at the North Carolina Aquarium on Roanoke Island. They also helped with some weeding and care at Mano al Hermano's community garden.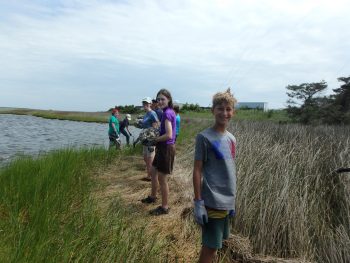 "It was a great opportunity for the kids to learn about the importance of conservation and the role the environment plays in our daily lives. In addition, they were able to get involved in the community through service projects such as weeding and planting at the Mano al Hermano community garden and oyster reef restoration," said Rachel Potts, Jennette's Pier instructor.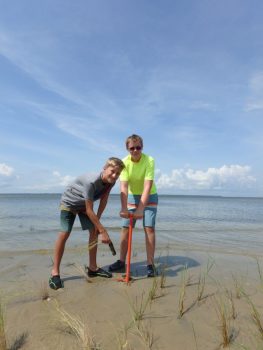 During the week, the teens also spent one morning fishing off of the pier where they learned about fishing ethics and the importance of population balance with size and catch limits. Later that day, some staff members helped the group clean and cook their catch for lunch. The group also had time to learn about various science careers and they each took the time to reflect on their own interests.
"It was a lot of fun, we learned about what we could do for our futures as well as all about the environment and it was fun to learn new things," said one of the students. 
The Green Teens summer camp was a unique opportunity for students to receive hands-on environmental experience. It is just one of many education programs that the federation is involved in this summer.