The North Carolina Coastal Federation held a community open house at its Wanchese office on June 26. The open house was held in celebration of the office's new dock on Broad Creek. Nearly one hundred fifty attendees enjoyed time on the new dock and grounds.
"I am so pleased with the community's support of this new asset," said Erin Fleckenstein, regional manager. "The opportunities it provides for our programming are tremendous and we look forward to putting it to good use."
The dock allows waterfront access to Broad Creek. It will be used for hands-on educational programs with students and it will allow the federation direct access to create more oyster habitats and restore wetlands locally.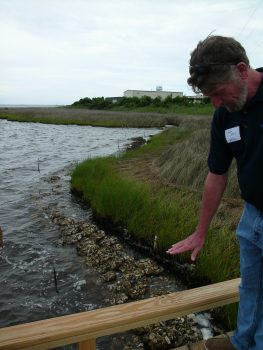 The dock has already been put to use for education and restoration activities. Attendees of the open house had a chance to see some of the recently created oyster habitat that federation built with local volunteers. A newly built oyster sill is protecting 100 feet of shoreline and is made of nearly 1,000 oyster shell bags that were constructed and deployed entirely by volunteers. Groups from the Outer Banks Chamber of Commerce Leadership OBX course and several alternative spring break groups assisted in constructing the oyster shell bags. Groups from the NC Aquarium on Roanoke Island, Sea Change Partnership, and community volunteers helped to deploy the bags along the shoreline.
"Providing hands-on opportunities to participate in habitat restoration and protection projects is a cornerstone of our work," says Fleckenstein. "Many people have had a hand in building this oyster reef and have learned about the importance of oysters along the way. We plan to create more opportunities for this type of work and experience thanks to the access provided by the dock."
The dock is the second phase of demonstration projects at the northeast office. The first phase included installing a rain garden, permeable pavement and a rain barrel to reduce stormwater runoff to Broad Creek and Roanoke Sound. Future plans for the site include installing an additional 400 feet of living shoreline along the property and building a demonstration oyster farm.
The federation gratefully acknowledges the support of the Camp Younts Foundation, Boeckman Family Foundation, Outer Banks Community Foundation, Inc., Stephenson Pope Babcock Foundation, Kelly Hospitality Group, Coastal Provisions Oyster Bar & Wine Bar Café and federation members in making this dock possible.
Click to enlarge the photos below.