All three regional offices took field trips to special coastal places in May, helping North Carolina students more fully experience the state's beautiful coast.
Many of these students had only seen the ocean and/or a salt marsh a few times, and some had never seen these environments before. Part of the North Carolina Coastal Federation's mission is to ensure all people get to enjoy the state's coast.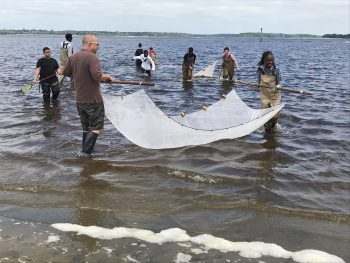 In the southeast coastal region, Wrightsville Beach office staff brought students from Lake Forest Academy to Carolina Beach State Park on May 9. Kate Conery, AmeriCorps member at that office, has been working with the school throughout the year. This field trip was the middle school students' final lesson with the federation for the year.
"Our field trip to Carolina Beach State Park was really exciting since it was many of the students' first time to a salt marsh," Conery said. "The students that had been to a salt marsh before had taken a field trip to Morris Landing with us last summer."
At the park, students did a quick marine debris cleanup and found plastic film and cigarette butts. They then put on waders and used the dip nets, cast nets and seine nets to try to catch and identify fish and other marine organisms. They caught hermit crabs, mummichogs, sheepshead minnows, fiddler crabs, blue crabs and a pipefish, which was the most exciting of the finds.
Throughout the year, students have learned about oysters, marine debris, estuaries and stormwater runoff.
In the Crystal Coast region, Ocean office staff members hosted 45 third- and fourth-grade students from Maysville Elementary on May 14. Maysville is about 30-40 minutes from Emerald Island, and thanks to a grant, the federation will be able to reimburse the school's travel costs.
Students spent a morning out in the Emerald Isle Woods, where federation staff set up stations along the maritime forest trail, before heading over to the beach to play games and explore.
"They loved it, and they really enjoyed it," said Rachel Bisesi, coastal education coordinator for the region. "This was the first time we had taken a school group out there."
Students were divided into two groups, and they learned about birds, ponds, marine debris, trees, estuaries and oysters. One group even saw a painted bunting during the bird-watching portion. Students measured salinity at the freshwater pond and the estuary, and then again at the beach, where they did a scavenger hunt. They also talked about marine debris and barrier islands.
Maysville Elementary has visited the federation the past few years.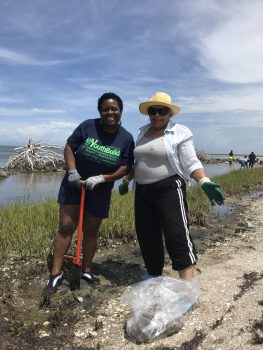 The final field trip took place on May 16 in the Outer Banks, where 12 students and staff members from Elizabeth City-based River City YouthBuild took a trip down to Hatteras. Ernie Foster, a federation board member and owner of Albatross Fleet in Hatteras, transported the group and supplies to the site, which is only accessible by boat.
Angie Wills, who is also a federation board member and director of YouthBuild, brought along some of her family, including her mother, who is around 80-years-old and kept everyone else on their toes during the marsh grass planting portion of the trip, said Sara Hallas, coastal education coordinator at the Wanchese office.
"It was a fun experience for AmeriCorps members, actively getting close with nature and experiencing a broader outlook on its effects in the community," said Dayvon Johnson, a student in the program.
The group spent the day planting 2,000 marsh grass plugs at the living shoreline in Hatteras, followed by some time in the water looking for marine animals.
"It was an awesome time refurbishing the grass and being educated on the importance of the mission. It was a new experience for me," said Ervin Jones, AmeriCorps coordinator for River City YouthBuild. "I look forward to seeing the fruits of the students labor."
Check out more photos from these field trips below: