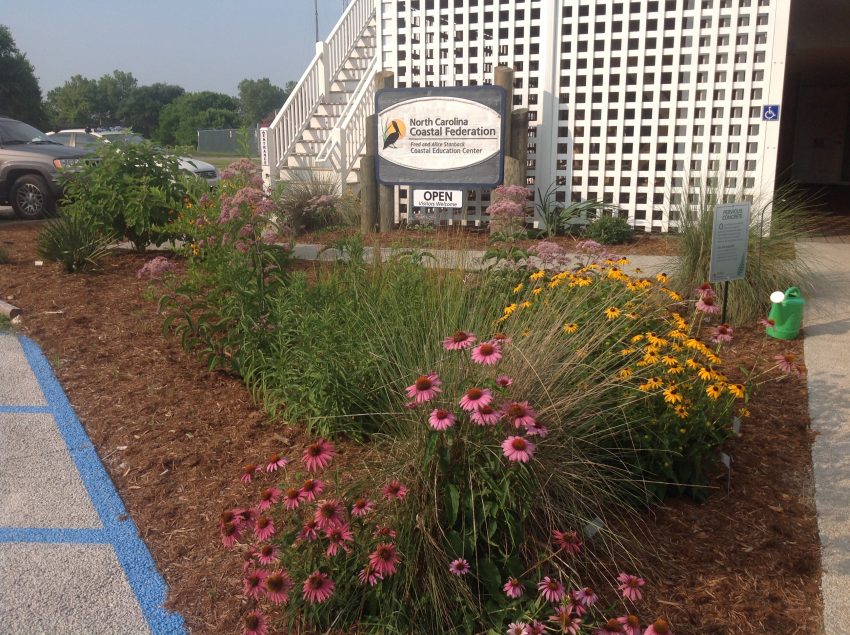 WRIGHTSVILLE BEACH — The North Carolina Coastal Federation recently revamped its Walk the Loop for Clean Water website, walktheloop.org, which serves as tour guide of projects in Wrightsville Beach that reduce the volume of stormwater runoff flowing into nearby waterways.
Walk the Loop for Clean Water is a 1-mile, self-guided walking tour of innovative stormwater projects that the federation and partners constructed around the John Nesbitt Loop in Wrightsville Beach.
Stormwater runoff can harm waterways that are used for fishing, swimming, paddling and other recreational activities. The seven stations on Walk the Loop feature rain gardens, permeable pavement, swales and more techniques that are designed to slow down the flow of polluted stormwater runoff and allow it to filter into the ground.
The website features a history of the project, a map of the entire trail and station-by-station information that users can scroll through on their phones while taking the tour. Updates include more resources for people to educate themselves on stormwater runoff and information on how people can incorporate some of the techniques into their own backyards.
"The Walk the Loop for Clean Water tour has been a great way to demonstrate the various techniques that can be used to reduce the volume of polluted stormwater entering our local waters," said Jessica Gray, coastal outreach associate for the federation. "By updating the website, we hope to provide even more tools and information the public can use to do their part to reduce stormwater pollution."
Some of the new resources include information on how to make businesses stormwater friendly, education materials, local stormwater runoff reduction programs, swim advisories, water quality grants and much more. There are also resources for kids and teachers.
Walk the Loop for Clean Water is part of the Bradley and Hewletts Creeks Watershed Restoration Plan. The website updates were made possible by support from RBC Blue Water Project and the Holiday Inn Resort at Wrightsville Beach. Walk the Loop also received support and funding from the City of Wilmington, North Carolina Department of Transportation, North Carolina National Estuarine Research Reserve and the University of North Carolina Wilmington.
The March meeting for the Southeast Coastal Ambassadors, a special group of volunteers who serve as representatives of the federation at festivals, programs and other outreach events, will focus on Walk the Loop and the federation's stormwater projects in Wrightsville Beach. This meeting is this Wednesday, March 14, from 10 a.m. to noon.
The tour begins at the federation's Fred and Alice Stanback Coastal Education Center at 309 W. Salisbury St. Take the tour today HERE, and contact Jessica Gray at jessicag@nccoast.org or 910-509-2838 for questions about the tour or for more information about the March Coastal Ambassador program.