The North Carolina Coastal Federation has already hosted five cleanups this year, and two of those took place this month at Fort Macon State Park and a section of adopted highway.
Nineteen volunteers joined staff from the Ocean office for the first cleanup of February at Fort Macon on Feb. 13. The volunteers picked up approximately 385 pounds of trash made up of woody debris and bags of litter.
"The day of the cleanup was cold, windy and a bit rainy, but we were so impressed with the work ethic and good spirits from the volunteers throughout the cleanup," said Rachel Bisesi, coastal education coordinator for the federation's Ocean office.
The group found a lot of rope, as well as construction materials, beverage bottles, grocery bags, cigarettes and aluminum cans. They also found a large trash can, which Bisesi said came in handy during the cleanup.
The Wanchese office hosted its "Love your Highway Cleanup" on its adopted 2-mile stretch of N.C. 345 on Feb. 17.
The cleanup drew a crowd of 15 volunteers, including a frequent volunteer from Manteo High School and a group from Outer Banks Dare Challenge. Sara Hallas, coastal education coordinator for the federation, and Reilly Kelly, AmeriCorps member with the Wanchese office, led this cleanup.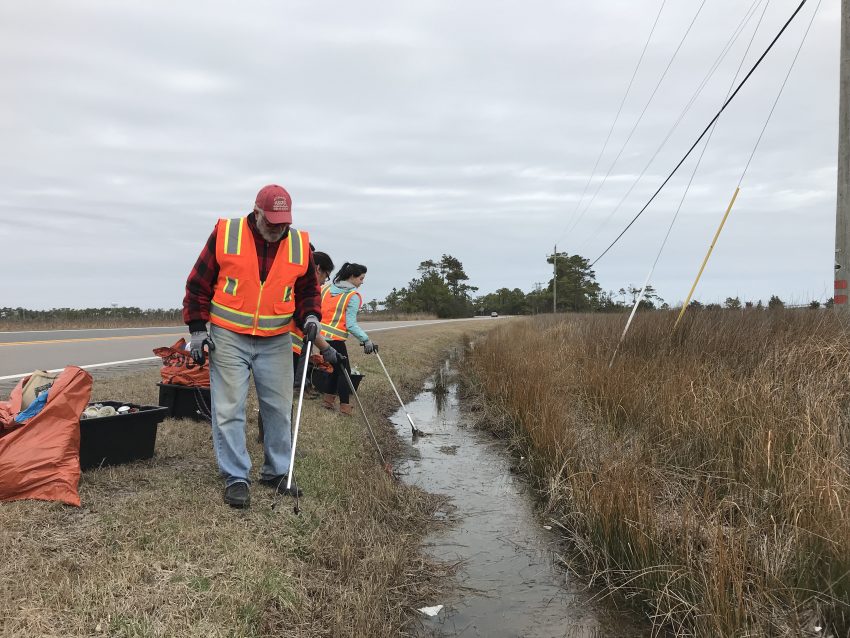 "Though it's a dirty task, it's one that attracts a wide range of our volunteers and keeps them informed about our work," Hallas said. "It's fun to see the mix of people come together from students, working professionals and retirees, for this simple common interest everyone can relate to."
The volunteers covered the entire 2-mile stretch and removed 12 bags of trash and seven totes of recycling. Just like the Fort Macon group, common items included cigarettes and cigarette packs, as well as plastic bottles and aluminum cans.
Many of these common items — such as grocery bags and plastic bottles — demonstrate how reducing, reusing and recycling plastic and other ­everyday items helps protect shorelines and waterways.
"I'm always intrigued to see what we'll find and hope we can use the items as clues to determine how we can focus on prevention," Hallas said. "We hope that the travelers that now see a clean road side will be more inclined to keep it that way."
For more information about upcoming volunteer opportunities, visit nccoast.org/events.