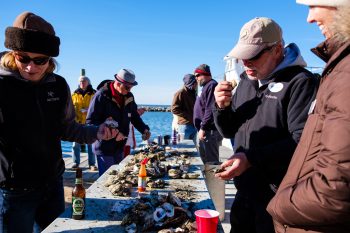 The North Carolina Coastal Federation's fifth annual Hatteras Island Oyster Roast drew more than 400 guests and volunteers on Feb. 3 at Oden's Dock and Risky Business Seafood.
A line started forming outside of the entrance 30 minutes before the start of the event, which featured North Carolina oysters, clam chowder, live music and homemade desserts.
Katherine McGlade, who is on the federation's board and northeast advisory committee, said that having the oyster roast at Oden's Dock makes the event unique, as the dock is a working waterfront and home to commercial and sport fishing vessels.
"The atmosphere is really cool because there is a great live band playing creating a festive party complete with fire pits where you can meet new friends and take a break from eating… until you go back for more," McGlade said. "Oysters galore, homemade clam chowder, delicious corn bread, beer and soft drinks. Who needs dinner?"
Throughout the event, many volunteers helped keep the event running smoothly by recycling oyster shells, helping to serve food and checking tickets.
"The Hatteras community is incredibly welcoming and accommodating," said Sara Hallas, coastal education coordinator at the federation.
Five students from Cape Hatteras Secondary School were an especially big help with bagging oyster shells, which will be used in a living shoreline in Broad Creek at the federation's Wanchese office. This living shoreline will serve as a demonstration for people to see how a living shoreline works and what its benefits are. Rennie Parker, Cate Parker, Rebecca Wright, McKenzie Pullen and Jackson Pullen bagged shells throughout the event, keeping the station running smoothly. Oyster shells provide a base for juvenile oysters — or spat — to attach to and grow on.
The oysters themselves were from the Newport River and supplied by Garland Fulcher Seafood. Attendees could eat all the oysters they wanted and finished about 50 bushels on site. The chef at Breakwater Restaurant prepared the clam chowder.
While people enjoyed the oysters and clam chowder, the band Blurky's Quirky Friends provided entertainment with live music.
Among the hundreds of attendees were Rep. Bob Steinburg and his wife Marie, as well as Dare County Commissioner Danny Couch. Lee Nettles, director of the Outer Banks Visitors Bureau, also attended, as did several members of the Dare County Tourism Board.
"We're always glad to host legislative guests and appreciate their support," Hallas said. "It's great that this event brings the community together, from students to businesses to legislative guests."
The radio station 94.5 Water Country did a live broadcast from the event, helping to increase interest.
Many thanks to our sponsors, The Outer Banks Visitors Bureau and City Beverage Co., Inc.
Check out photos in the gallery below. All photos were taken by Daniel Pullen.