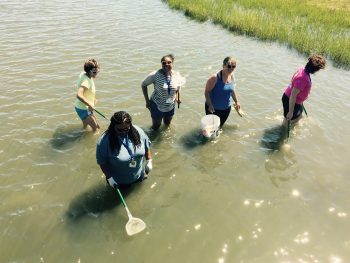 Teachers from across the state traveled to the North Carolina Center for the Advancement of Teaching (NCCAT) on Ocracoke for a three-day seminar, part of which included hands-on activities with the North Carolina Coastal Federation that were focused on a variety of coastal topics.
Sara Hallas, coastal education coordinator for the federation's Wanchese office, led these activities on June 27 and June 28. Sixteen teachers participated in the lessons that focused on water quality, watersheds, estuaries, living shorelines and oysters. They were given access to the lesson plans they participated in, and are now well-equipped to teach these lessons in their own classrooms.
To begin the day, the 16 teachers learned about the basics of the estuary and the living shoreline at the NCCAT center.
To gain a better understanding of the coast and ways to integrate teaching science using literacy standards, they participated in a water cycle activity, were challenged with locating River Basins and identified sources of stormwater runoff pollution.
Hallas then led a living shoreline exploration. The group was tasked with locating the plants and animals they had just learned about during the classroom component.
Though the indoor component supplemented the living shoreline exploration, Hallas said the group much preferred the hands-on learning they were able to experience outdoors.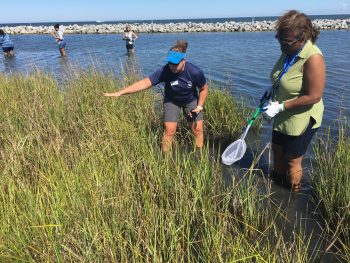 "Once they were immersed outdoors, surrounded by such a diversity of living things, the teachers had more questions and intrigue of everything around them," Hallas said. "Everyone came away with a new appreciation for the estuary. Having experienced the importance of hands-on learning themselves, they can take this new understanding of the coast and share it with their students."'
The federation has partnered with NCCAT ever since the installation of the living shoreline, and has continued to partner with them for these professional development seminars.
To learn more about our living shoreline at NCCAT, check out this map.