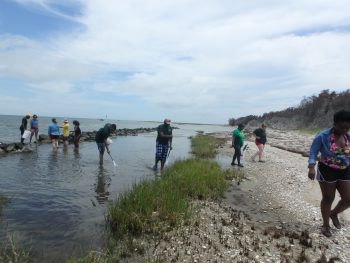 Staff at the Wanchese office recently took a field trip with students and staff from River City YouthBuild out to Durant's Point in Hatteras, where they learned about living shorelines, marine debris and explored the marsh.
Sara Hallas, coastal education coordinator at the North Carolina Coastal Federation's Wanchese office, said they've done a trip with River City YouthBulid every spring. This trip out to Hatteras was a three-hour drive for River City YouthBuild, but students and staff were eager to get out to Durant's Point, where the organization had helped the federation with marsh grass plantings at the living shoreline there in 2012. It was their first trip back since that planting, and some in the group had never visited the site.
"I have never been to a living shoreline before and I have been coming to the beach all of my life. Knowing the information I learned in the lesson has made me appreciate the beach even more," said River City YouthBuild AmeriCorps member Alicia Wiedor.
Capt. Brian and Capt. Ernie of Albatross Fleet donated their skiffs and time to bring everyone and all of the supplies over to the living shoreline site, which is only accessible by boat.
Once at the site, federation staff started off with a lesson on living shorelines, followed by some interactive educational activities, one of which focused on marine debris and how long it takes to decompose.
Adrian Gray, AmeriCorps coordinator at River City YouthBuild, said students enjoy the lessons because of the information and knowledge they can bring back to their communities.
"I think that getting out in the coastal environment is important for our students because they need to be knowledgeable about the coast with it being so close to them and also to understand how important protecting our coastal environment is to generations to come," he said.
AmeriCorps members and staff from River City YouthBuild who attended the field trip said they walked away with a better understanding of the work being done to protect the coast, as well as a greater interest in participating in that kind of work.
"I enjoy coming to these living shorelines because it helps me better understand why protecting our coast is so important," said Cameron Pouncie, River City YouthBuild AmeriCorps VISTA (Volunteers in Service to America).
River City YouthBuild is a program based in Elizabeth City that provides education and employment skills for economically disadvantaged young adults aged 16-24, often high school drop-outs. They get hands-on construction experience while also learning about entrepreneurship, and the organization offers community service, academic and leadership development opportunities. It also hosts several AmeriCorps positions.
During the trip students also learned more about the wildlife that lives in the marsh by matching adult animals with juveniles, and they learned about why the estuary is the nursery of the sea and is such important habitat for many species. 
They followed those lessons on animals by seeing them firsthand. Using dip nets and a seine net, they found hermit crabs, cannonball jellyfish, small fish and shrimp, oysters and blue crabs. Gray said they group enjoyed exploring the marsh the most of all the activities that day.
After a lunch break, the group helped clear marine debris from the shoreline site, filling three fish totes with lost fishing gear and consumer debris. The trip was a great learning and service experience for all involved.
"Since I have been volunteering with the North Carolina Coastal Federation and watching the productivity of the marsh and the benefit it provides, it gives me pride knowing we provided a serving hand," said Alexandra Krause, an AmeriCorps member with River City YouthBuild.