The North Carolina Coastal Federation is teaming up with coastal colleagues from Florida, Georgia and South Carolina to advance the use of living shorelines across four Atlantic coast states.
The Governors' South Atlantic Alliance, a formal collaborative between the governors of North Carolina, South Carolina, Georgia and Florida, received funding from the Environmental Protection Agency to develop a strategy for regional approaches to living shorelines in the four states, including a prioritized list of project needs.
As part of the project, the federation worked with GSAA states to organize a summit and workshop that gathered key experts to develop this living shorelines strategy.
Living shorelines are more natural erosion control methods that use marsh grasses, oyster reefs and other natural elements to control erosion. They maintain the natural functions of the shoreline and create salt marsh habitats, while also becoming more effective over time. Hardened shoreline structures, such as bulkheads, often require costly repair and may lead to more erosion over time.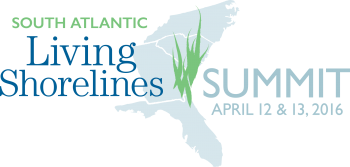 Ana Zivanovic-Nenadovic, senior policy analyst for the federation, helped plan the GSAA's South Atlantic Living Shorelines Summit in Jacksonville, Florida this past April. This summit enabled participants to learn about living shoreline application, promotion and management in the four states. Participants determined joint needs for advancing the use of living shorelines across the region.
About 150 state and federal government officials, private contractors, engineers, scientists and others attended the summit.
"The summit was an excellent way to work toward long-term solutions for controlling erosion in the southeast," Zivanovic-Nenadovic said. "It provided an opportunity to bring together living shorelines experts and government agencies, a collaboration that will result in an expanded use of living shorelines in the four states."
Participants identified "two broad categories of strategic needs that must be met in order to achieve successful living shoreline construction: education and outreach; and policy refinement and implementation," according to a needs assessment that resulted from the summit.
The federation hosted a workshop in October where leading living shorelines experts adopted this needs assessment and used it for the foundation of a four-state living shoreline strategy that is due out later this year. The purpose of the October workshop was to identify what gaps exist in living shorelines research and practice.
The federation is also partnering with GSAA states to provide training and tools for developing coastal watershed restoration plans and practices to reduce stormwater runoff. Lauren Kolodij, deputy director of the federation, hosted a two-day workshop in April that featured watershed strategies for protecting and restoring coastal water quality. The federation's South Carolina, Georgia and Florida partners are organizing similar workshops in their states later this fall.
For more information about the federation's living shorelines and watershed restoration planning efforts and resources, please visit www.nccoast.org. Learn more about the GSAA at southatlanticalliance.org.