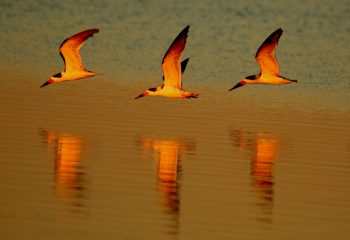 The 2016 Pelican Award winners received their awards on Saturday in Beaufort at The Boathouse at Front Street Village. These award winners all contributed in unique ways toward protecting the North Carolina coast. The North Carolina Coastal Federation is thankful for the support and work of these individuals, groups and local governments. In total, 13 people, groups or governments received Pelican Awards this year. Below are brief bios about each of the recipients that appear in the 2016 program. Thank you to all who came out to support the winners and the work of the federation!
Lifetime Achievement Award
Campbell Roads Nursery — Carlton Campbell
For Advancing Living Shorelines in Coastal North Carolina
Carlton grows grass — no not the kind you grow in your yards and, no, not that kind either. He grows the kind of grass found along our estuary shorelines that creates important habitat for baby fish. He didn't intend to make marsh restoration his life's work. He wanted to be an engineer when he grew up. He instead became a pioneer in marsh restoration and shaped the way it is done in North Carolina. Carlton began collecting seeds from coastal marshes 50 years ago and growing them in small quantities for experiments run by N.C. State University. As more and more marshes were restored, he grew more and more seedlings. Carlton became the first person in the state to grow enough marsh grasses for large-scale restoration projects. He's retired now, and there are a half-dozen businesses that grow native grasses. Quiet and unassuming, Carlton will never take the credit he deserves, but without him the living shoreline work of the federation wouldn't be possible.
Program for the Study of Developed Shorelines at Western Carolina University
For Expert Research and Strategic Advice to Advance Sound Beach and Shoreline Management
If you need to understand your coastal vulnerability, evaluate a proposed coastal engineering project or determine what the true economic implications of developing inlets are, ask Rob Young and Andy Coburn. If you need a forceful advocate for sane development policies along the beach, look no further. Rob is director of the Program for the Study of Developed Shorelines at Western Carolina University, and he's picked up for the venerable Orrin Pilkey, who started the program decades ago at Duke University. The program takes a global view of modern coastal processes and geologic hazards, and it examines the scientific basis for managing developed shorelines in a time of rising sea level. Rob and Andy took over the program 10 years ago and have become leaders in the development of responsible strategies and policies promoting the long-term sustainability of our nation's coastal ecosystems.
Jan Harris
For Tireless Commitment to Advocating for Coastal Resource Protection
Jan Harris is a bulldog. She works constantly to ensure that our coastal resources are protected for future generations, and she apparently never sleeps. She writes letters, attends meetings, conducts research and rallies her fellow residents of Sunset Beach and others to solicit their participation in coastal protection. For decades, Jan has spoken out against developing properties too close to inlets and other incompatible coastal land uses. Jan is what advocacy is all about and is a true friend of the coast.
Doug Wakeman
For Longtime Commitment to the North Carolina Coastal Federation and Coastal Environment
Doug Wakeman is a numbers guy who believes you have to do well before you can do good. He's helped make sure the federation has done both. Now retired as an economics professor at Meredith College in Raleigh, Doug has been on the federation's Board of Directors since 1995. He's helped ensure the financial integrity of the organization by overseeing the compilation of our annual audits and helping staff keep track of grants, foundation gifts and donations. Doug has also prepared a number of economic analysis reports for the federation on a variety of issues such as beach re-nourishment, offshore drilling and terminal groins.
31 Local Governments for Oil Resolutions
For Exercising Leadership to Ensure an Oil-Free North Carolina Coast
Oil and gas has never been commercially produced in the Atlantic Ocean. Over the past two years, many North Carolina towns and counties have ensured that the Atlantic Ocean remains free from oil and gas development. In January of 2015, the Bureau of Ocean Energy Management (BOEM) proposed to include waters off of North Carolina for oil and gas development. In response, 31 local governments passed resolutions against offshore oil and gas drilling. These resolutions invigorated residents to understand the issue and realize the risky nature of this proposal. In March of 2016, BOEM removed the Atlantic Ocean from their five-year plan, ensuring these waters would be free from oil and gas development through 2022. According to BOEM, one of the main reasons for its decision is the number of coastal local governments that opposed its draft plan.
These 31 local governments are: Atlantic Beach, Bald Head Island, Beaufort, Belville, Carolina Beach, Carolina Shores, Carrboro, Caswell Beach, Cedar Point, Chapel Hill, Dare County, Duck, Emerald Isle, Holden Beach, Holly Ridge, Kill Devil Hills, Kitty Hawk, Kure Beach, Manteo, Morehead City, Nags Head, Oak Island, Ocean Isle, Orange County, Southport, St. James, Sunset Beach, Surf City, Swansboro, Topsail Beach, Wilmington and Wrightsville Beach.
Paul Kutsko
For Energetic and Enthusiastic Assistance with North Carolina Coastal Federation Programs
Paul Kutsko moved to the Outer Banks after retiring, and our staff in the northeast is certainly glad he did. Paul has been an active volunteer since arriving on the Banks. He is highly motivated and always upbeat, and he brings great energy to long days in the field. Paul has gotten wet and dirty building oyster reefs. He's built birdhouses and helped teach students about our coastal environment. When Paul doesn't see events on the calendar he is sure to stop by the office and see how he can help.  We're most grateful that he's shared his time and his wide range of talents with us.
Total Marine Services
For Dedicated Contributions to Advancing Coastal Restoration
We knew that creating living shorelines at Jockey's Ridge State Park in Nags Head and near Durant's Point on Hatteras would be difficult because the locations were remote and hard to access. We couldn't have done it without Total Marine Services, a marine contractor in Wanchese. The staff there brought creative thinking, exceptional professionalism and even some fun and laughter to the job. They've also helped restore oyster reefs from upcycled crab pots, build a rain garden in a weekend and maintain and store our boats. Anything that needs doing, they do — or they'll figure out how to do it.
Aaron McCall
For Unwavering Commitment to Advancing Coastal Restoration  
Aaron McCall, the regional steward for The Nature Conservancy's northeast office, has one objective in mind — get the job done, whatever it takes. Aaron has worked with the federation's northeast staff for more than 10 years. Aaron's support never falters. He fills and hauls oyster shell bags, educates students, collects derelict crab pots, picks up trash, provides volunteers, fixes what breaks and doesn't care to stop for lunch.
Keith Rittmaster
For Dedication to the Research and Protection of Marine Mammals
Biologist Keith Rittmaster has spent over 30 years protecting and studying marine mammals. During his work, he witnessed the devastating effect that marine debris has had on whales, dolphins, sea turtles and sea birds. He saw them entangled in fishing lines and felt compelled to do something about it. He's a member of the North Carolina Marine Mammal Stranding Network and the Atlantic Large Whale Disentanglement Network and always responds to entanglement incidents. He started the North Carolina Monofilament Recovery and Recycling Program to encourage the proper disposal of fishing line and has placed 42 recycling receptacles along the coast, collecting over 2,400 miles of line. Through his work as a natural science curator with the North Carolina Maritime Museum, Keith has shared his knowledge through presentations, workshops, publications and displays.
Laura Price
For Excellence in Volunteer Contributions to the Coast
Laura Price has been a consistent presence at federation volunteer events along the central coast. Whether bagging recycled oyster shells, weeding vegetables at EarthWise Farm in Carteret County, picking up marine debris or planting marsh grasses, she is always a joy to be around. When asked why she volunteers so much, Laura simply said, "I enjoy working with the federation and helping the coast." Originally from Albemarle, North Carolina, Laura taught for 10 years in Carteret and Jackson counties, and can sometimes be heard using her "teacher voice" to encourage students while building an oyster reef. Laura also has 20 years of experience as a mental health administrator. She enjoys kayaking, cooking and traveling.
Oak Island Environmental Committee and Oak Island Volunteer Monitoring Team
For Dedicated Volunteer Support for the Coastal Environment
The North Carolina Coastal Federation and the Town of Oak Island have worked together since 2010 to improve the water quality of Lockwood's Folly River through oyster and marsh restoration projects, stormwater projects and increased education and outreach around community. Much of this success is the result of a dedicated group of volunteers from Oak Island. The Oak Island Environmental Committee and the Oak Island stormwater monitoring volunteers represent a small army of folks who show up rain or shine, haul countless bags of oyster shells, help with stormwater projects and help to spread our mission to preserve a clean coast.
Bruce Holsten
For Advancing Advocacy Efforts to Ensure a Healthy Coast
Bruce Holsten, the managing director of a strategic management and political consulting firm, has served on the Regional Advisory Committee for our office in Wrightsville Beach and has been a force in the development of New Hanover County's Comprehensive Plan. Bruce has extensive experience in industrial mining, and when he recognized the threat that Titan posed he came calling to see how he could help us stop Titan.  His wise council and advice helped us send Titan packing. He continues to be engaged in many of the federation's advocacy issues.
GE Volunteer Program
For Dedicated Volunteer Contributions to the North Carolina Coast
On an overcast and chilly Saturday in April, the shores of the Cape Fear River along Carolina Beach State Park were lined with green-shirted, hardworking General Electric volunteers. Almost 300 volunteers from the GE plant in Wilmington volunteered through the annual Work on Wilmington to build an oyster reef by placing over 4,000 oyster shell and marl bags into the river. While this was an amazing show of community support, it is just one of many examples of the GE Volunteer Program. Since 2004, over 1,000 GE volunteers have donated thousands of hours building oyster reefs and restoring salt marsh habitat with the federation alone. GE volunteers work with underserved students to build their STEM skills, contribute hundreds of hours each year to Work on Wilmington and work with many nonprofit organizations in the Cape Fear region.