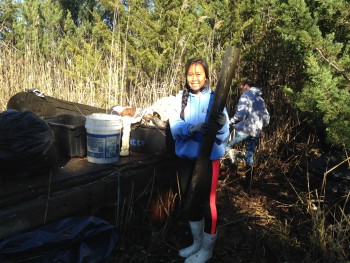 Happy Mother's Day! To mark the occasion, we spoke with a couple of our most loyal volunteers in the northeast area, Vickie Byers and her daughter, Alexandra. This mother/daughter duo isn't afraid to step into the mud or haul away debris. To the contrary, their hard work usually leaves them smiling together. Here's what they had to say:
How did you begin volunteering with the Coastal Federation?
Vickie: Around 2005, the Coastal Federation was establishing a presence in the Northern Banks. Soon after that I was asked to be part of the initial advisory board. Alexandra began volunteering around the age of eight when we thought she would be able to contribute as a volunteer— she would just join us when we volunteered at various functions.
What have you learned from volunteering with the Coastal Federation?
Alexandra: I have learned that there are a lot of things going on that many people don't know about and don't realize is happening. I did the trash cleanup in Wanchese and I had no idea that all that trash was there! If there was several tons of debris in just one place, it makes me wonder how much there is on the whole Outer Banks.
What do you like most about volunteering with your mom?
Alexandra: I like that we get do to something together that is fun and also helps out with the community and environment. I haven't learned anything new about her, but I am reminded of how determined she is to do things in order to keep the environment clean and healthy!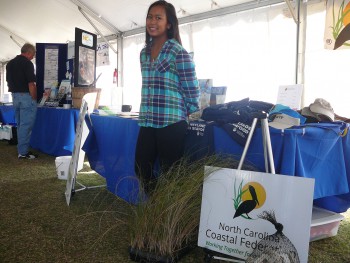 What do you like most about volunteering with Alexandra?
Vickie: Other than being able to join forces with her as a volunteer in a group setting, I most enjoy being able to share with her my passion and dedication to conservationism and being a steward of our environment.
What would you tell your peers about volunteering as a family?
Alexandra: I think it is a ton of fun volunteering as a family! At first it might be like, "great I'm going to pick up trash," but it is so worth the end result and it is very fun no matter what the weather conditions are like! Even though it was cold, and I slipped around in the mud, I had a blast and I honestly thought that the mud made it even more fun!
What would you tell other mothers about volunteering as a family?
Vickie: I cannot think of a better way to expose our daughter to the values of working toward the common goal of a healthy coast, educating her along with our community on water quality issues, accomplishing BIG tasks through group effort and being outside, and being part of our unique coastal community.
Anything else you'd like to share?
Alexandra: Not only do you get to be with your family, but you also get to meet a bunch of other people! When I was on my All-District Jazz Band Trip, I saw someone who looked very familiar and turns out, he was at the trash cleanup, too!
Vickie: Most recently we volunteered at a muddy, mucky, messy trash and large item debris pick up at an industrial park in Wanchese. It was an early morning in February. (Good time to stay under the covers.) Trash was everywhere. We were walking through mud and reeds and vines to pull tires, metal, wood, plastics, and crab pots out of the marsh – a daunting task for all. Though it initially seemed like a hopeless effort, in three hours we had removed more than several tons of debris.   After washing her hands and having a piece of the communal pizza, Alexandra said: "That was kinda fun." And it was!
Thank you, Vickie & Alexandra!