It's a new year and events are in full swing all along the coast. From speaker series to shoreline cleanups to oyster bagging, there are ways for everyone to get involved in protecting and restoring our coast. To register for any event, visit our events page.
Southeast:
Feb. 10 – Coastal Speaker Series, What's In Your Oyster?
Learn about the good, bad and ugly of consuming and restoring oysters. Stephen Skrabal, a professor of biochemistry and chemistry at UNCW and the associate director for education at the Center for Marine Science will review the findings of a recent study of contaminants in the tissues of nature's best water filter, the Eastern oyster.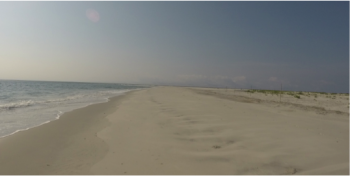 March 5 – Save Rich Inlet Public Forum
Join the Coastal Federation as we facilitate a public discussion on the proposal to build a terminal groin on Figure Eight Island. The Figure Eight Island Homeowners Association board of directors is currently pursuing permits to build a 1200 foot steel and rock wall at the north end of the Island to combat periodic beach erosion at Rich Inlet.
March 9 – Coastal Speaker Series, Cucalorus Film Screening
Catch an exclusive screening of an environmental justice film entered into the Cucalorus Film Festival. See how other communities are daring to challenge booming industries.
Central: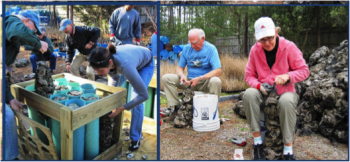 Oyster Bagging Volunteer Events – Feb. 9, Feb. 23, March 22
During the events, volunteers will be filling mesh bags with oyster shells that will be used to build oyster reefs in the spring and summer. The bags will be placed along shorelines to protect them from erosion and create valuable estuarine habitat. Volunteers are needed to cut, tie, lift, and stack the shell bags. These events are suitable for adults, organized groups and supervised children aged 10+.
March 5 – Shoreline Cleanup, Hoop Pole Creek
One of the Coastal Federation's primary initiatives is to reduce the amount of marine debris littering coastal marshes, beaches and waterways. This March, we invite volunteers to help clean up Hoop Pole Creek, a coastal creek, salt marsh and maritime forest preserve in Atlantic Beach. Hoop Pole Creek is the only remaining natural maritime forest area in Atlantic Beach and the creek continues to be rich with oysters, fish, and other wildlife.
March 20 – Birding Cruise, Hammocks Beach State Park 
Join local birding expert Joanne Powell for a birding cruise on the White Oak River in Swansboro. The group will slowly cruise on a covered ferryboat through the estuaries in and around the White Oak River and Bogue Sound, including Huggins and Bear islands, looking for resident and migratory birds.
Northeast:
Feb. 6 – Hatteras Island Oyster Roast
Gather around the fire with us at Oden's Dock for an old-fashioned oyster roast. We'll have fresh oysters on hand, seafood chowder and other refreshments. Be sure and save room for homemade dessert for an additional donation at a bake sale. Hear live music from a local band, challenge your friends to a game of corn hole to win prizes and enjoy good company among federation staff, board members and volunteers.