Federation intern, Mariko Polk, recently won first place in the student category of the Battle of the GeoMaps at the North Carolina ArcGIS User Group 2015 Conference.
The Battle of the GeoMaps is a mapping poster competition that recognizes achievement in solving problems faced by the user community or public at large. Judged by peers in attendance at the conference, Mariko edged out other competitors to win the top student award at the event.
"I am very grateful for the recognition from my fellow North Carolina ArcGIS User Group members, said Mariko. "This is a great group – they have helped me expand my knowledge and learn new approaches for using GIS."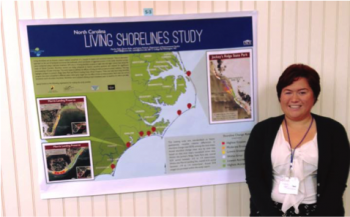 Mariko's poster presented a study she conducted with Dr. Devon Eulie of the Department of Environmental Studies at the University of North Carolina Wilmington, addressing the effectiveness of living shoreline projects in improving coastal resiliency. The study compares 14 living shoreline projects and eight controlled site locations along the North Carolina coast. Many of the living shoreline projects the study looked at were installed by the federation. The shoreline surveys are being analyzed against historic shoreline positions over a 22-year time span.
The research data are currently being assessed and should be finalized and submitted by the end of the year. "I initiated the study primarily for my own interest and knowledge, but it has grown to be so much more," said Mariko. "The data looks to yield some interesting information and I'm anxious to see the final results once the analysis is completed."
Mariko, one of the federation's 2014 Coastal Advocacy Institute's summer interns, came to the N.C. coast after receiving her BS in Environmental Resource Management from California State University Bakersfield and a Certificate in Geographic Information Science from the University of West Florida.
Currently a graduate student in environmental studies at the University of North Carolina Wilmington, Mariko has continued her involvement with the federation working with local municipalities on stormwater runoff issues.
For now, Mariko is working on wrapping up her data analysis and is on track to graduate in December. Ultimately, however, she'd like to apply some of the same skills she has nurtured with the federation and that won her recognition from her peers at the North Carolina ArcGIS User Group: demonstrating the importance of maintaining a natural coast and ensuring water quality through preventive measures.
"I eventually would like to work for a nonprofit, similar to the federation, says Mariko, "helping local municipalities with conservation and coastal management issues, but I'm also contemplating a Ph.D., so that may have to wait a while."