The federation is hosting three AmeriCorps Project GEOS members this summer, with one member at each regional office. The AmeriCorps members are working on a multitude of projects throughout our three offices, focusing on environmental education.
Hosted by the Conservation Trust for North Carolina, AmeriCorps Project GEOS is a ten-month service program focused on environmental education and outreach. GEOS, or Growing Environmental Opportunities through Service, places AmeriCorps members with 14 organizations in North Carolina focusing on four goals:
Make environmental education more accessible to diverse audiences
2. Provide tools for people from diverse backgrounds to become future leaders in conservation
3. Build bridges between conservation groups and communities
4. Connect more North Carolinians to the outdoors
(Source: http://www.ctnc.org/connect/americorps-project-geos/)
We did a Q&A with our AmeriCorps members to learn more about them and their role with the federation.
Northeast (Manteo): Amanda Miller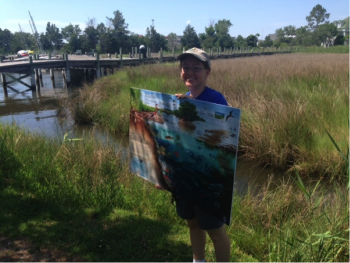 Why did you decide to serve with AmeriCorps Project GEOS?
It is important to me to lead by example and show others what they can do to conserve our precious resources and ecosystem. Helping people to preserve our resources and ecosystems by leaving as small of an footprint as possible, increasing their understanding of why conservation is important, and how it impacts them, their community and the world. I believe that through Project GEOS I will reach many people and help bring life changing impacts to our great coast.
What types of projects are you working on in Manteo?
I am working on developing a program for a camp at Mattamuskeet NWR for a 4-H club on estuaries and oyster reefs. I will be involved in beach cleanup, as well as leading dockside programming teaching people about oysters, estuaries, and water pollution. I am also working on a project aimed at getting young people involved with cleaning up garbage along the roads through the "adopt a highway" program. I want to stop pollution from blowing around before it reaches the sound.
What are your words of wisdom to someone interested in serving with AmeriCorps?
It's not about you; it's about the community and helping others. Be organized and patient.
Central (Ocean): Rachel Davis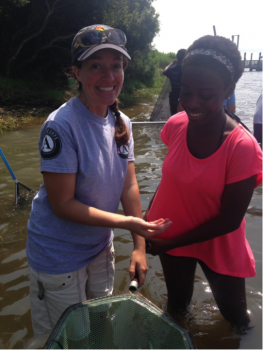 I wanted to get back into teaching environmental education programs and had been interested in working for a non-profit organization. I had moved back home and volunteered with the federation and found out about the position and decided to apply.
What's your favorite part of serving with Project GEOS at the federation's central office?
My favorite part of serving with Project GEOS is being able to provide opportunities to include kids in programs that they otherwise wouldn't be able to due to income and travel restrictions.
What do you wish the general public knew about serving with AmeriCorps?
There are lots of different types of programs within AmeriCorps and Project GEOS is the newest one. AmeriCorps is like a domestic version of the Peace Corps.
Southeast (Wrigthsville Beach): Zach Lee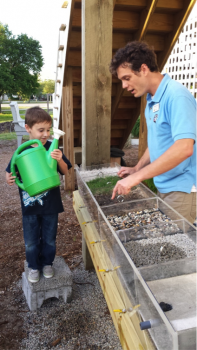 Why were you initially interested in serving through Project GEOS?
Project GEOS offered me the opportunity to raise awareness within my local community about our relationship with the environment. I saw a chance to provide environmental education to my fellow community members and inspire future leaders in the field of conservation. I hope to connect more North Carolinians to the outdoors and make environmental education more accessible to diverse audiences.
Is it everything you hoped it would be? Any surprises?
I have found Project GEOS to be an exciting program that offers challenging and rewarding experiences that have helped me develop new skills. It is everything I hoped it would be.
If someone was interested in applying for an AmeriCorps position but wasn't quite sure, what would you tell them?
AmeriCorps offers you a unique opportunity to represent your country, give back to your community, and connect with people from multiple backgrounds. It is hard work, but a position with AmeriCorps is a rewarding experience.