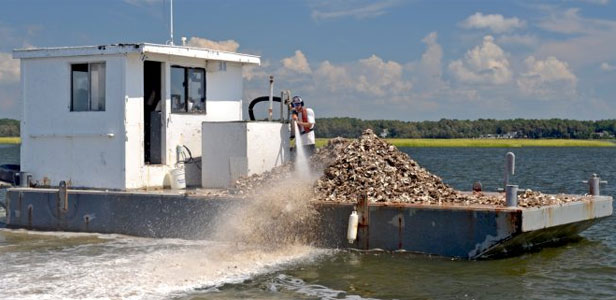 Cultch reefs are built throughout the state's shellfish waters using limestone marl or recycled shell. These materials are also referred to as "cultch". Cultch planting sites are open to harvest once oysters reach legal harvest size (3 inches). Visit the N.C. Division of Marine Fisheries website for more information about oyster cultch program.
The federation partners with the N.C. Division of Marine Fisheries in planning and building cultch planted sites through out the state. We partnered on the construction of more than 200 acres of cultch planted sites through a 2009 American Recovery and Reinvestment Act project and a 2017 National Oceanic and Atmospheric Administration community-based restoration project.
Did You Know
The Division of Marine Fisheries annually deploys tens of thousands of bushels of shell, marl and other suitable cultch materials to build harvestable reefs.
The Cultch program has been active in North Carolina since 1915 and helps to supplement wild harvest efforts.
Nearly 50 acres of cultch planted reefs are built each year.